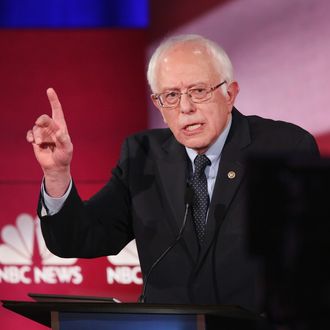 Bernie might be putting his finger on an impossible idea, however.
Photo: Andrew Burton/Getty Images
During Sunday night's Democratic debate in South Carolina, Bernie Sanders called for an automatic Department of Justice review anytime someone dies while in police custody. The proposal came in response to a YouTube vlogger's question about what his administration would do to tackle incidents of police violence. Sanders called the issue a "responsibility for the U.S. Justice Department" and declared that "whenever anybody in this country is killed while in police custody, this should automatically trigger a U.S. Attorney General's investigation."
The Justice Department currently treats such incidents on a case-by-case basis, typically only if asked for help by local authorities or if such cases become particularly controversial. In addition, as The Atlantic's Matt Ford points out, Sanders's proposal likely isn't very realistic:
958 people died in local jails in 2012, the most recent year for which the Bureau of Justice Statistics had data. This might be an effective talking point on the stump, but it also would be a tough logistical challenge for the Justice Department.
In addition to the automatic-review idea, Sanders repeated his previous calls for more diversity among police officers, the demilitarization of police departments, an increase in community-based policing, and went on to insist that no police officer should ever be above the law.
Hillary Clinton, speaking on the issue of criminal justice Sunday night, called out its "systemic racism" in America and said that police officers need to be retrained and racial profiling ended. Emphasized Clinton, "One out of three African-American men may well end up going to prison. That's the statistic. I want people here to think what we would be doing if it was one out of three white men."
Watch Sanders's response regarding police violence below: