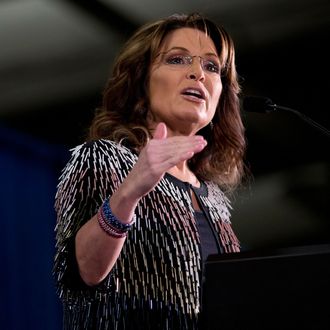 "Right-winging, bitter-clinging, wife-beating, PTSD-suffering, broken victims of America's endless wars!"
Photo: Mary Altaffer/AP/Corbis
Former Alaska governor and symbol of American decline Sarah Palin just blamed President Obama for making her son beat his girlfriend.
Last night, while Palin was endorsing Donald Trump, her 26-year-old son, Track, was being picked up for domestic violence. At a Trump rally in Oklahoma on Wednesday, Palin addressed the "elephant in the room" — which, in her telling, wasn't the fact that one of the worst moments of her son's life had just become a national news story, but rather that Barack Obama was personally responsible for the assault.
"I guess it's kind of the elephant in the room — because my own family, going through what we're going through today with my son, a combat vet having served in a Stryker brigade fighting for you all, America, in the war zone," Palin said, according to Politico. "It's a shame that our military personnel even have to question, have to wonder if they're respected anymore. It starts from the top … the question, though, that comes from our own president where they have to look at him and wonder, 'Do you know what we go through? Do you know what we're trying to do to secure America and to secure the freedoms that have been bequeathed us?'"
On Tuesday night, a drunken Track Palin punched his girlfriend in the eye after discovering that she had been in contact with an ex, according to an affidavit posted by KTVA-TV. Palin allegedly went on to point an AR-15 at his own head and threaten suicide, kick his girlfriend while she was on the floor, and refuse to cooperate with police upon their arrival. Police found the girlfriend hiding under a bed.
The elder Palin's attempt to fold her son's troubles into Obama's legacy caromed off a cogent point about a major, underrecognized cost of war. Studies consistently show that the partners of combat veterans face a heightened risk of domestic violence. According to one study from Yale University, combat veterans account for 21 percent of all domestic-violence incidents in the United States. "My son, like so many others, they come back a bit different. They come back hardened," Palin said Wednesday. "So when my own son is going through what he goes through coming back, I can certainly relate with other families who kind of feel these ramifications of PTSD." Then she brought it back to Obama. "It makes me realize more than ever, it is now or never for the sake of America's finest that we'll have that commander-in-chief who will respect them and honor them," she said.