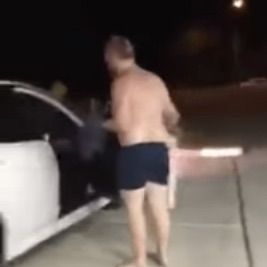 Two Australian men, one of them shirtless, were leaving a party to look for food Friday night when they stumbled into the middle of an attempted robbery. The heroic mates were apparently sober enough to stop the getaway car and break up the crime in progress, becoming local heroes and landing an interview on Australia's Today show. It was, quite frankly, the most Australian interview ever.
This story is so Australian, in fact, that it's practically incomprehensible to foreigners. It had the Today hosts in fits.
Here's what the heroic shirtless gentleman, James Ross-Munro said:
"We'd been down at Options Tavern at a stubbies and singlets party, and got dropped off by a mate up the road, we were gonna walk down the servo and get some noodles and went to jump over a sign on the way, and slipped over and busted me plugga!"
Which, translated from Straylan to American English, means the two friends were at a party where everyone was drinking short bottles of beer and wearing cutoff vests. They left to go to the service station mini-mart for food, but in a wild attempt to jump over a sign, his thong broke.
He busted his plugga. His thong broke. His. thong. broke. And he still managed to steal the keys from the getaway car and chase the robbers down the street, while his friend kept filming despite the risks of getting stabbed.
The video has racked up 1.2 million views on YouTube, but Ross-Munro says he's no hero, just a humble bloke who works down at Hinterland Mowers. It is actually impossible for this story to be more Australian.