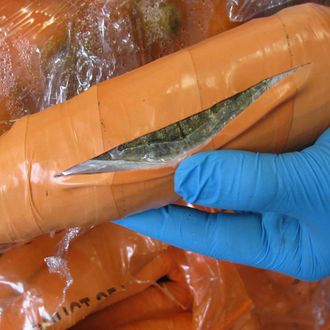 That's one way to roll a joint.
Photo: U.S. Customs and Border Protection
New York City residents can now legally buy marijuana (albeit in highly regulated, liquid form), but weed of the old-fashioned smokable variety is still big business, and it seems drug smugglers are getting creative when it comes to smuggling it into the U.S. On January 10, U.S. Customs and Border Protection agents found half a million dollars' worth of weed disguised as delicious and heart-healthy — if a bit rubbery-looking — carrots. 
The tractor trailer was carrying "vegetables" to Texas from Mexico when agents stopped it at Pharr International Bridge and tagged it for a more in-depth inspection, the San Antonio Express-News reports. Apparently, someone in the drug ring made a trip to Michael's: Upon closer inspection of the trailer, officials found 2,817 packages of pot that looked (but did not smell) exactly like carrots mixed in with actual vegetables. In total, the packages carried 2,500 pounds of marijuana, or roughly $500,000-worth of the drug.
"Once again, drug smuggling organizations have demonstrated their creativity in attempting to smuggle large quantities of narcotics across the border," Port Director Efrain Solis Jr. told the Express-News. "Our officers are always ready to meet those challenges." Some Mexican drug lord might be handy with a glue gun, but it takes more than crafting skills to fool border patrol.
Interestingly, this isn't the first time smugglers have attempted to pass drugs off as produce. Back in November, CBP agents found nearly $2 million–worth of marijuana and cocaine in shipments of carrots and cucumbers. A note to the Mexican drug cartel: Next time, maybe try a different vegetable.