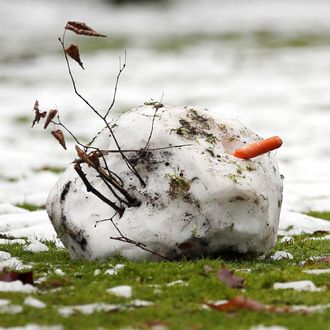 If there is any snow today, it will probably be enough to build a very sickly snowman.
Photo: Martin Gerten/AFP/Getty Images
New York City's weird winter seems to have finally subsided, the warm September temperatures finally fading as El Niño decides to let the blustery and frigid days we're used to return. 
However, there is a potential upside to the weather that forced hats and scarves to cancel their vacations — at least for those New Yorkers who aren't Grinches and don't hate the idea of trudging around in brownish slush. 
That's right: The city might get snow today!
And by snow I mean "a slight dusting on cars or in parks." However, even if the snow is negligible, it will probably be the most snow the city has seen all season.
A storm is moving through the tristate area, but the weather isn't so cold that we can expect much accumulation, even if the precipitation stays soft and fluffy instead of turning into rain. The NYC Department of Sanitation issued a "snow alert," and expects the snow to start shortly before it's time to leave work today. If it does snow, and this isn't just a fake-out, the city is prepared with salt and whatnot.
Even if it doesn't snow, the roads could get icy — it's supposed to be windy and cold on Tuesday night and Wednesday — and there could be more accumulation in places north of the city. 
And for those enterprising souls who head to Central Park if the snow starts, you might be able to find enough snow to build at least three snowballs.