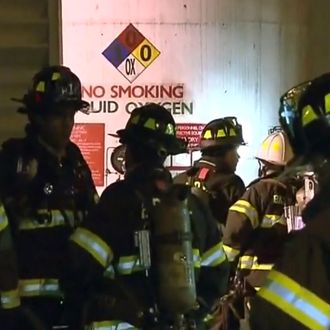 In a case of doubly tragic bad aim early Friday morning, a 31-year-old man committed suicide by jumping from a building next to Mount Sinai West hospital and, on his way down, hit one of the hospital's oxygen tanks. The resultant leak in a pressurized line, though it didn't require an evacuation, forced the ER to divert incoming patients to the hospital's other wings.
Hazmat crews arrived to plug the leak shortly after the event, which happened around 2:30 a.m. Over the next few hours, Mount Sinai West (the former Roosevelt Hospital, on West 59th Street) was able to call in a portable oxygen supply, and a repair crew was able to plug the hole, a law-enforcement official said. "There was no adverse impact to other hospital operations or patient care; the hospital's oxygen supply system remains fully functional," said Sid Dinsay, spokesman for Mount Sinai West.
The jumper, who lived at 1 Columbus Place, was pronounced dead at the scene.