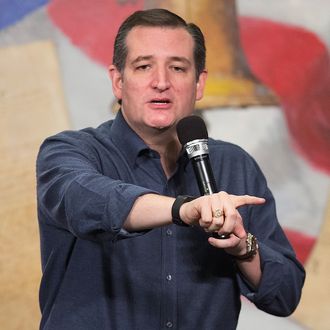 The fiery freshman senator has come a long way in this campaign, but may have stumbled at the worst possible time.
Photo: Scott Olson/2016 Getty Images
When Ted Cruz became the first Republican presidential aspirant to formally announce his candidacy in a March 2015 speech at Liberty University, he was generally considered a very long shot (oddsmakers initially rated him the sixth-most-likely nomination winner, with 16-1 odds). He was too young and too inexperienced (with the same Senate tenure as Barack Obama had in 2008, which Republicans had never stopped citing as disqualifying), had made too many enemies among his colleagues, and was pursuing too narrow a constituency in a very crowded field. He was mostly bumping along in the single digits in polls of his primary target, Evangelical-rich Iowa, until well into the fall of last year. And he had to overcome a very formidable assortment of rivals for Evangelical and movement-conservative votes.  
In retrospect, Cruz's accomplishment in getting to the eve of the caucuses as the putative second-place — or possibly first-place — finisher has been pretty remarkable. Two rivals for the Evangelical vote had deep roots and a record of victory in Iowa: 2008 winner Mike Huckabee and 2012 winner Rick Santorum. Cruz outorganized both of them and snagged the Christian-right endorsements that helped them forge their winning coalitions. The longtime governor of his own state, Rick Perry, had major Christian-right street cred of his own, and experience in Iowa. Cruz outlasted Perry, who later endorsed him. Scott Walker was an early favorite to win Iowa, in part because of an alleged deep affinity with Evangelicals. Cruz outlasted him, too, and also outlasted Bobby Jindal, the smartest guy in every room, who made Evangelicals his obsessive target. And Cruz endured a brief but massive boom of Evangelical support, in Iowa and nationally, for Dr. Ben Carson. He's also become the de facto second choice of libertarian-leaning Republicans pending the likely early demise of Rand Paul's once-promising campaign. Like every other candidate, Cruz has been intermittently challenged and marginalized by Donald Trump, but through most of the invisible primary Cruz has handled that better than anyone else. 
The Cruz campaign is in fine financial shape and has a very clear path to the nomination with the big breakthrough planned for the so-called "SEC primary" on March 1. 
But it's possible he's losing his mojo at the worst possible moment.
Even before Thursday night's Fox News debate, there was talk that Cruz might have "peaked too early" in Iowa. Cruz narrowly led the Donald in the typically very accurate and influential Des Moines Register/Bloomberg poll released on January 13. But since then the polling has shown slippage for Cruz, generally attributed to a combo attack from Trump on Cruz's Canadian birth and from the Branstad family (Terry, the six-term governor, and son Eric, the ethanol lobbyist) on his opposition to special treatment of the corn-based alternative fuel by the federal government. Even more ominously, third-place candidate Marco Rubio, the favorite of both the Republican Establishment and of many conservative Evangelical leaders, was beginning to creep up on Cruz in Iowa polls amid a major spending spree on TV ads by the Floridian. 
Then came Thursday night's debates, where Cruz was almost universally deemed the worst performer and perhaps (depending on your assessment of the impact of Trump's absence) the big loser. Two particularly damaging moments were his trapped look when confronted with videos of his past statements seeming to support legalization of undocumented immigrants, and a shot of Terry Branstad chortling as Cruz struggled to explain his position on ethanol. And it didn't help the nerves of Team Cruz that Frank Luntz's post-debate focus-group report for Fox News was practically a Rubio rally.
If the debate does move caucusgoers, it may not be reflected in late polls (e.g., the final Register-Bloomberg poll that will be released Saturday night) that were in the field before the event. More likely, the caucuses will remain a test of the turnout strategies of Trump, with his effort to expand participation deep into marginal voting segments, and Cruz, with his state-of-the-art organization focused on the most likely caucusgoers.
If Cruz wins, the debate stumble will be forgotten instantly. If he finishes second, and particularly a weak second, chins will be stroked and lost opportunities will be weighed. And if he somehow finishes behind Rubio, his candidacy is in very big trouble. Any way you look at it, it's been a long, strange trip for a freshman U.S. senator who would finish dead last in a poll of his colleagues.