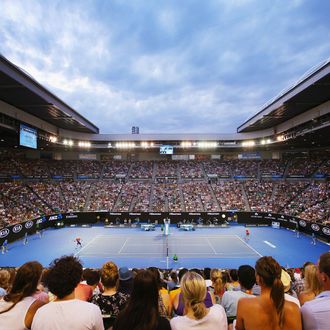 With the Australian Open under way, the tennis world is reacting to the bombshell BuzzFeed/BBC report.
Photo: Michael Dodge/Getty Images
A cloud of scandal is hanging over the first major tennis tournament of the year, with the Australian Open kicking off yesterday following a bombshell report from BuzzFeed and the BBC that exposed what it calls evidence of match-fixing by some of the top men's players in the world. The report didn't reveal any names — beyond the ones who'd previously been investigated — but it called attention to how widespread the practice allegedly is, and how the players flagged to authorities have not faced sanctions. Here's what you need to know about the scandal.
What do we know about the players involved?
The report didn't name names, but it did give some details about those involved. A core group of 16 players has been repeatedly flagged to tennis authorities, all of whom have ranked at some point in the top 50. That group, according to the report, includes winners of Grand Slam singles and doubles tournaments. It also claims that one player currently participating in the Australian Open is suspected of repeatedly fixing the first set of matches. Beyond that core group of 16, the report says that 70 names appear on nine leaked lists of suspected fixers over the past decade. A separate BuzzFeed analysis into betting patterns also identified 15 players who regularly lost matches in which lopsided wagering appeared to shift the odds, which it calls a red flag for possible match-fixing. Four of those players, according to BuzzFeed, showed "particularly unusual patterns."
How did the match-fixing allegedly work?
The report details how gambling syndicates in Russia and Italy have made hundreds of thousands of pounds placing highly suspicious bets on matches, including ones at Wimbledon and the French Open. Players were allegedly offered $50,000 or more per fix, and bettors could cash in by wagering against a player they knew was going to lose.
What started all of this?
The tennis authorities' focus on potential fixes was triggered by a 2007 match between the highly favored Nikolay Davydenko and Martin Vassallo Arguello in the second round of the Orange Prokom tournament. A large number of bets were placed on Arguello, even as Davydenko won the first set and took the lead in the second. The Betfair gambling exchange in London took note and alerted officials. Davydenko's play began to falter, he requested medical time-outs because of ankle and toe issues, and he eventually retired from the match. Betfair voided all bets on the match, and an investigation followed.
Davydenko and Arguello both denied the match was rigged, but investigators concluded that a betting syndicate in Russia "knew … the outcome of the match in question before its conclusion." But because of various roadblocks, investigators couldn't determine who the guilty party was, and concluded that they had "been unable to find any evidence to support the possibility of Nikolay Davydenko or Martin Vassallo Arguello being involved in any corrupt practices surrounding their second-round match in Sopot on 2nd August 2007." As a result, the International Tennis Federation launched a sweeping review of match-fixing.
Has that review cleaned up the sport?
According to the report, no. Ben Gunn, a former police chief who led the 2008 review that recommended the formation of an "integrity unit," says that authorities had an opportunity to address the issue but instead created what the report calls a "feeble and understaffed integrity unit that ignored key betting evidence." Says Gunn: "What they did is a plastic solution which was not effective then and it's not effective now." In all, more than 20 gambling industry officials, police detectives, and sports integrity experts tell BuzzFeed that the sport has failed to sufficiently confront the issue.
What do tennis officials have to say about all of this?
The sport's governing bodies, including the ATP and WTA tours for men and women respectively, deny that they're ignoring a problem or covering up a scandal. From a joint statement: "The Tennis Integrity Unit and the tennis authorities absolutely reject any suggestion that evidence of match fixing has been suppressed for any reason." Via The Guardian, Chris Kermode, the chief executive of the ATP, says that "while the BBC and BuzzFeed reports mainly refer to events from about 10 years ago, we will investigate any new information, and we always do. In its investigations, the Tennis Integrity Unit has to find evidence, as opposed to information, suspicion or hearsay. This is the key here: that it requires evidence."
How are players reacting?
Andy Murray has called for more transparency when suspected fixes are being investigated, and said more needs to be done to educate players tempted by huge sums of money.
Novak Djokovic, the top-ranked men's player in the world, says he was indirectly offered $200,000 to lose a first-round match at a tournament in Russia in 2007. Said Djokovic: "For me, that's an act of unsportsmanship, a crime in sport honestly. I don't support it. I think there is no room for it in any sport, especially in tennis."
And Roger Federer said he "would love to hear names." Via ESPN:
"Then at least it's concrete stuff and you can actually debate about it. Was it the player? Was it the support team? Who was it? Was it before? Was it a doubles player, a singles player? Which slam? It's so all over the place. It's nonsense to answer something that is pure speculation. Like I said, it's super serious and it's super important to maintain the integrity of our sport. So how high up does it go?"