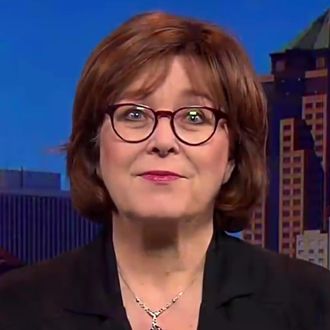 Ann Selzer is the Iowan to consult for predicting what will happen next Monday.
As the Iowa caucuses approach, there is a blizzard of information — and disinformation — coming out of the state that matches any winter storm. There have been seven Republican and six Democratic polls released in the last week. The airwaves are completely saturated with political ads. Candidates are mostly camped out in Iowa. There are as many assessments of campaign strategies as there are candidates. Even bottom-feeders like Martin O'Malley and Mike Huckabee could be factors, with the former's supporters able to help Clinton or Sanders in the many precincts where they won't be "viable" and thus able to win delegates, and the latter working to undermine the Evangelical street cred of Ted Cruz. 
It's reasonably clear Donald Trump and Ted Cruz are significantly ahead of the Republican pack, and obviously either Hillary Clinton or Bernie Sanders will win the Democratic event. Beyond that, though, are many imponderables, particularly in terms of the order of finish of the GOP also-rans (e.g., anything short of third place would be a catastrophe for Marco Rubio, while Jeb Bush needs to come in fourth to keep the vultures away). At the top, there are many questions around turnout. If a lot of marginal caucusgoers show up next Monday night, it's presumably good news for Donald Trump and Bernie Sanders. But even if conditions affecting turnout are relatively equal — the same reasonably warm weather with a chance of rain and ice will affect all candidates — there's precedent from the last time both parties had competitive caucuses (2008) of one party having a record turnout, while the other did not do nearly as well. 
So what is a political junkie to do when it comes to understanding the dynamics or (shudder) making a prediction? Fortunately, there's one easy answer: Wait until the Des Moines Register and Bloomberg release their final Iowa poll at some point (or two points, since the Democratic and Republican results are usually released in successive days) this weekend. 
The poll, produced by the Iowa-based firm of Selzer & Company, is one that inspires almost universal respect. Ann Selzer's firm is one of just three (out of hundreds) awarded an A-plus grade by Nate Silver's FiveThirtyEight site in its comprehensive pollster ratings. Its Iowa polling has been especially impressive, picking up such difficult-to-identify phenomena as the order of finish in the fast-changing 2004 Democratic caucuses, the Santorum surge in the 2012 Republican caucuses, and the size of Joni Ernst's 2014 Senate win.
Selzer's Iowa poll has long been associated with the Register, but Bloomberg's recent co-sponsorship has meant more publicity. The last iteration in mid-January showed two close races, with Cruz up three over Trump and Clinton up two over Sanders. Since then most other polls have shown Trump and Sanders enjoying surges in support — though, again, these are the two candidates most depending on a heavy turnout. What you will most need to make your final predictions is a weather report — and the final word of the Oracle, Ms. Selzer.