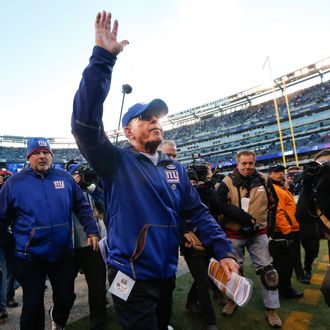 Tom Coughlin waves good-bye to Giants fans after yesterday's loss to the Eagles.
Photo: Julio Cortez/AP/Corbis
Tom Coughlin, who won two Super Bowls during his 12 seasons as head coach of the Giants, has informed ownership that he's stepping down, ending the speculation about his future with the franchise. Said Coughlin in a statement: "I strongly believe the time is right for me and my family, and as I said, the Giants organization."
The Giants missed the playoffs in each of the last four seasons, finishing 6–10 in each of the last two. It was widely believed that yesterday's season finale would be his last game in the Giants' sideline and that he'd be let go by the team if he didn't either retire or resign.
Coughlin, who made no mention of retiring in his statement, finishes in New York with a regular-season record of 102–90. His teams reached the playoffs five times in 12 years and won games in just two of those postseasons. But they made them count, going on unexpected runs to a Super Bowl title in the 2007 and 2011 seasons.
Coughlin was hired in 2004 to instill discipline in a franchise John Mara referred to at the time as "in trouble." But he's softened a bit over the years, and famously formed a leadership council of key players after a tumultuous 2006 season, in order to better connect with his team. He'd win his first Super Bowl the following year.
Here's Coughlin's full statement:
"I met with John Mara and Steve Tisch this afternoon, and I informed them that it is in the best interest of the organization that I step down as head coach. I strongly believe the time is right for me and my family, and as I said, the Giants organization.

"It has been an honor and a privilege to serve as head coach of the New York Football Giants. This is a not a sad occasion for me. I have spent 15 years with this organization as an assistant and head coach and was fortunate to be part of three Super Bowl winning teams. A Lombardi Trophy every five years is an achievement in which we all take great pride.

"Obviously, the past three years have not been what any of us expect, and as head coach, I accept the responsibility for those seasons.

"I think it has been evident these last 12 years here how much pride I take in representing this franchise. I am gratified and proud that we were able to deliver two more Lombardi trophies to the display case in our lobby during that time. That is a tribute to our players and staff, and it was truly fulfilling to be the leader of those teams.

"I appreciate the support of John and his family and Steve and his family, and of Jerry Reese and his staff. I think our organization is a great representation of what I mean when I talk about 'team'.

"Finally, I would be remiss if I did not thank my wife Judy and our four children and their spouses and our 11 (soon to be 12) grandchildren. None of this would have been possible without their unconditional love and support."