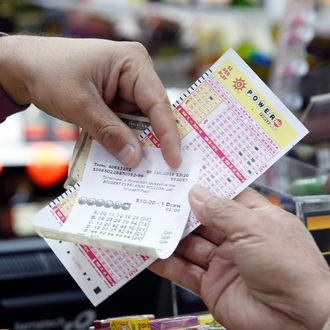 "Never tell me the odds."
Photo: Alex Brandon/AP/Corbis
Saturday night's Powerball jackpot, which has reached $900 million, is already the biggest lottery prize in history and could end up around $1.3 billion for the next drawing if there is no winner. The Associated Press reports that, amid hysterical nationwide tickets sales, at least 65 percent of the possible winning number combinations have already been purchased, and lottery officials expect $400 million in ticket sales on Saturday alone. In Iowa, some stores were apparently running out of paper to print all the $2 tickets people were buying, and in Virginia, they are expecting to sell more than $21,000 worth of tickets a minute during peak buying times. The previous lottery prize record was $656 million Mega Millions jackpot in 2012. If there is a single winner, they will be able to space out the full amount over 30 years, or take a more-than-$500 million immediate payout.
The massive jackpot, which has been growing since it was a mere $40 million on November 4, is a result of lottery officials nearly doubling the unlikelihood of winning the Powerball last fall, making it more likely that enormous jackpots like this can build up. That change also means you now have an (even more) infinitesimal 1-in-292,201,338 chance of winning. As the old, extremely overused adage goes, you have a better chance of being struck by lightning, but in this case that's a ridiculous understatement. In fact, looking at the comparative statistics being thrown around, you have a better chance of getting twice-struck by lightning while being crushed by a vending machine in the middle of a shark attack you've endured to try and save your identical quadruplets from being killed by a meteorite. In other words, while you obviously can't win if you don't play, you also can't really win if you do.
But if you can't resist enjoying the mass-fantasy, keep in mind that according to ABC News, 70 percent of past winners have let the computer pick their number, and if you have to pick your own, 8, 13, 14, 39, and 54 are apparently the ones most frequently drawn. ABC also spoke to a lottery expert who advised that people should buy as many tickets as they can afford, something the AP's expert, the American Statistical Association's Ron Wasserstein, would not agree with. "I can assure you, there is no office pool for the lottery at the American Statistical Association," he said.
Also note that if you are a New Yorker, you may end up becoming a Republican presidential candidate if you win, since you'll pay higher taxes in New York than any other place in America, and suddenly have the money to go around the country complaining about it.