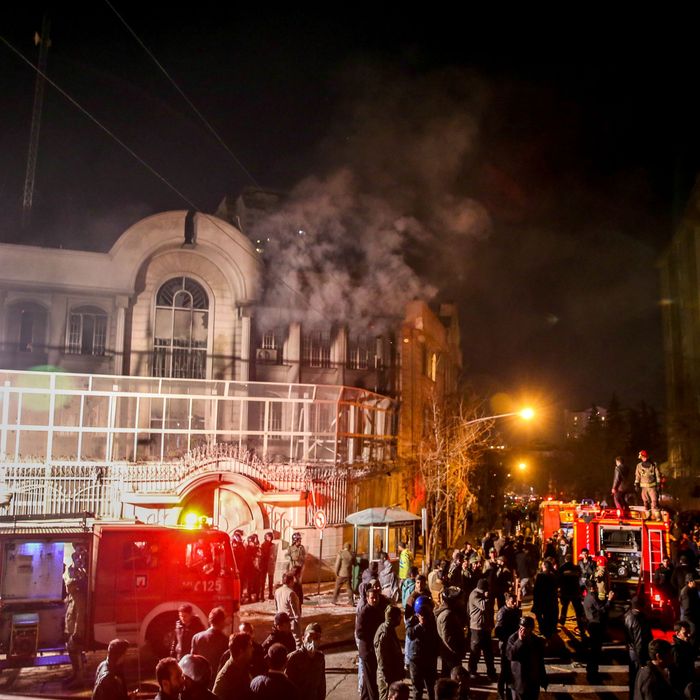 The burning Saudi embassy in Tehran after it was attacked on Saturday night.
Photo: Mohammed Reza Nadimi/AFP/Getty Images
What's New
- Not only did Saudi Arabia cut diplomatic ties with Iran, but now it plans on severing trade ties and stopping air traffic too. Oh, and also a travel ban.
- White House spokesperson Josh Earnest said that it is in both countries' best interest to stay involved in the Syria peace talks, despite their obvious differences. "We're hopeful they will continue to engage," he said on Monday, "but ultimately that will be up to them."

As most of the Shiite world continues to vent its outrage over the Saudi Arabian government's execution of prominent Shiite cleric and Arab Spring activist Nimr al-Nimr on Saturday, world leaders are calling for calm after Iranian protesters stormed, smashed, and burned the Saudi embassy in Tehran, and damaged the Saudi consulate in Mashhad this weekend. In response, Iranian authorities announced that 40 people have since been arrested over the protests, and the Associated Press reports that Iranian president Hassan Rouhani has publicly condemned the attacks as "unjustifiable," but it was not enough for Saudi Arabia. The Saudi foreign minister announced on Sunday that the kingdom was severing all diplomatic ties with Iran, and that Iranian diplomats would have 48 hours to leave Saudi Arabia. Saudi Arabia announced later on Monday it also plans to end trade and air-traffic links with Iran, according to Reuters. The country is also threatening to institute a travel ban.
Meanwhile, Iran's supreme leader warned that the execution of al-Nimr will lead to "divine vengeance" on the Saudi regime, and protests continued on Sunday among Shiite populations around the world as many brace for the possibility of greater sectarian division and violence between Sunnis and Shia. 
Bahrain, Sudan, and United Arab Emirates — Saudi allies led by Sunnis — have also cut or downgraded their diplomatic relations with Iran. 
Things look like they could only get messier in this region, which definitely had enough problems to worry about already. 
The Feud's Catalyst
Sheikh Nimr al-Nimr, an influential Saudi-born Shiite cleric and respected activist who preached nonviolence, was among 47 people executed by Saudi Arabia for alleged terrorism on Saturday, prompting condemnation from around the world and fears that the killing could further exacerbate Muslim sectarianism. It was the largest number of executions that Saudi Arabia has conducted in one day since 1980, per the Washington Post. 
The middle-aged al-Nimr was a key advocate for the country's Shiite minority and a very outspoken critic of the Saudi regime, against which he helped organize protests during the Arab Spring. The AP reports that three other Shiite activists were executed on Saturday as well, including two who were teenagers when they were arrested. The four activists had been convicted and sentenced to death in connection with Arab Spring protests in Saudi Arabia's majority-Shiite eastern province which turned violent and led to the deaths of several participants and police officers.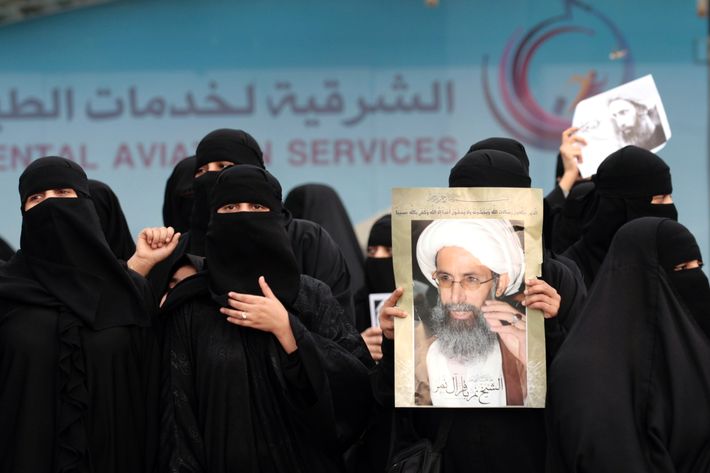 There had been a large international effort to secure al-Nimr's release, backed by UN secretary general Ban Ki-moon and Amnesty International, which had expressed significant concerns about the fairness of al-Nimr's trial within the kingdom's oft-criticized judicial system. While the Saudi government has maintained that the sentences had nothing to do with sectarian differences, an Amnesty official accused the Saudi government on Saturday of "using execution to settle political scores," and al-Nimr's death has elicited widespread condemnation from many human-rights groups. Ki-moon added on Saturday that he was "deeply dismayed" by al-Nimr's execution, and on Sunday, the UN's top human-rights official, Zeid Raad al-Hussein, called al-Nimr's execution a very disturbing development and questioned Saudi Arabia's concept of due process. 
Reaction to al-Nimr's execution in the Shiite world has been fast and furious, particularly in Iran — Saudi Arabia's chief rival in the region. The Iranian government had long been seeking amnesty for al-Nimr and had warned Saudi Arabia that it would face a high cost if it followed through with the death sentence, a claim Iran's foreign ministry repeated on Saturday. Following the Saudi announcement, protests were instigated outside the Saudi embassy in Tehran and the Saudi consulate in Mashhad, likely by organized hardliner elements within Iran. As the New York Times reports, the demonstrations subsequently turned violent, with protesters throwing Molotov cocktails at the embassy in Tehran and eventually breaching that compound, smashing furniture and windows and setting it ablaze. (Police later arrived to clear the building and firefighters put out the fire.) The Saudi consulate in Mashhad was also set on fire on Saturday night, according to the Washington Post, and the Saudi flag was torn down there as well. So far there have been no reports of any injuries to diplomats or employees at the facilities. A larger protest in Iran was planned for Sunday, though around 400 protesters returned to the Saudi embassy instead, where they were held back and asked to disperse by Iranian riot police.  
Iran's Response: ?
While the Saudis have now cut diplomatic ties with Iran, exactly how the Iranian regime will respond to the execution remains to be seen, though as the Guardian's Simon Tisdall points out, retaliation could come in multiple forms. Iran could encourage large-scale demonstrations among the Shiite majorities of eastern Saudi Arabia or Bahrain, increase their support of Houthi rebels in Yemen, or apply economic pressure by releasing vast quantities of cheap oil once international sanctions are further relaxed. Any or all of these moves, Tisdall argues, would be geared toward destabilizing the Saudi royal family — rulers whom some analysts see as showing signs of weakness. Iran's supreme leader, Ayatollah Ali Khamenei, blustered on Sunday, "God's hand of retaliation will grip the neck of Saudi politicians." Also on Sunday, Iran's powerful Revolutionary Guard went so far as to compare the Saudi regime to ISIS, and the leader of Hezbollah, the Iran-backed Shiite militant group in Lebanon, echoed Iran's fiery rhetoric while addressing a protest in Beirut.

On Monday, Iranian foreign ministry spokesperson Jaberi Ansari told reporters, "When it comes to protecting and also safeguarding and observing international commitments regarding protection of diplomatic missions, Iran naturally has taken proper action and will continue to do so." He added, however, that Iran was not impressed by Saudi Arabia's decision to cut diplomatic ties. "The Saudi government is looking … for some excuses to pursue its own unwise policies to further tension in the region," Ansari said. 
Iranian vice-president Eshaq Jahangiri added, per the New York Times, that "Saudis are advised to stop acting in a disruptive, hasty, illogical and emotional manner as well as works, because they are the ones who will face losses in cutting ties with Iran."
Elsewhere in the region, others found violent ways to retaliate against the execution of the Shiite cleric. At least two Sunni mosques in Iraq were attacked this weekend, and several leaders in Iraq have pushed the Shiite-led government to cut ties with Saudi Arabia, per Reuters. The Saudi Arabian embassy in Baghdad was set to open for the first time in 25 years this month.
Iraq's top Shiite cleric, Grand Ayatollah Ali al-Sistani, has celebrated al-Nimr and the other executed Shiite activists as martyrs. Powerful Iraqi cleric Muqtada al-Sadr and other Shiite militia leaders have also spoken out against the Saudi regime. There has also been condemnation and protests from Shiite leaders and populations in Yemen, Pakistan, India, and Afghanistan.
The three other countries that meted out diplomatic punishments against Iran have been simmering with anger toward the country for a long time, too. Bahrain, a country with a Sunni monarch and a Shiite majority, accused Iraq of helping Shiite insurgence during and after the Arab Spring. A spokesperson said, according to the BBC, the embassy attack was part of a "very dangerous pattern of sectarian policies that should be confronted … to preserve security and stability in the entire region."
The Conflict's Preamble
The severing of diplomatic ties between Saudi Arabia and Iran is yet the latest blow in what has already been tumultuous several months for the two nations. In September, Western powers reached a peace deal with Iran over its nuclear program, something Saudi Arabia had long opposed. Also in September, at least 464 Iranians were among more than 2,400 people killed in a stampede during the Hajj pilgrimage near Mecca — more than any other nationality. That tragedy still lingers for Iran, and led to a series of wild accusations and threats between the two countries. Saudi Arabia and Iran also have widely divergent positions on the conflict in Syria. 
According to the Washington Post, this is the first time that the two endlessly feuding countries have severed diplomatic ties since 1990, when Saudi Arabia and Iran took a two-year time-out.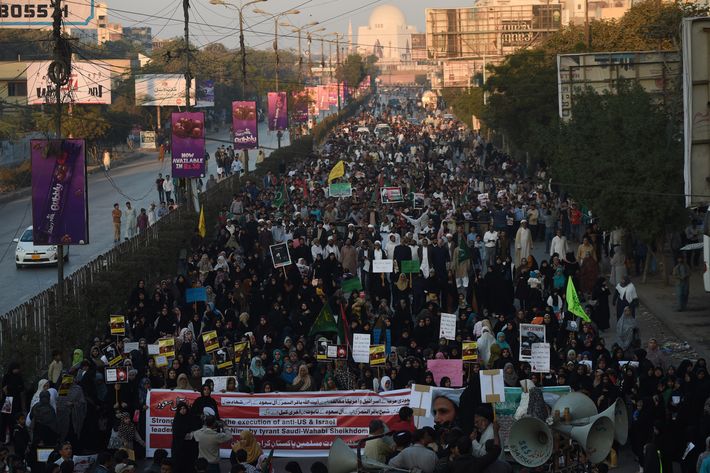 The Reaction Outside the Middle East
Compared to those of Shiite leaders and human-rights groups, responses from the Western world have been relatively muted. Some European officials have spoken out against the execution, while the U.S. State Department said the execution is "exacerbating sectarian tensions at a time when they urgently need to be reduced." White House spokesperson Josh Earnest said on Monday that the two countries should not escalate tensions or abandon the efforts at peace talks in Syria.
British prime minister David Cameron said that the situation was "hugely concerning because of course we want to see stability in the Middle East. We want to see good relations between the different countries in the Middle East, not least because that will be absolutely essential for solving the crisis in Syria, which is the source of so many of these problems." He added, "specifically on Saudi Arabia, let me be clear, we condemn and do not support the death penalty in any circumstances and that includes Saudi Arabia." Turkish deputy prime minister Numan Kurtulmus said, according to the AP,  "Enough is enough. [The region] is in need of peace and calm. Everyone must act with caution."
As the above responses show, many leaders are most worried about what this development means for the conflict in Syria — and the fight against ISIS. As Joshua Keating writes for Slate, "The only reason for any sort of optimism about the process to end the nearly 5-year-old conflict was that Saudi Arabia, the region's pre-eminent Sunni power and a major backer of the Syrian rebellions, and Iran, the region's pre-eminent Shiite power and a major backer of the Assad regime, had both agreed to come to the table. Now what?"
Peace talks are scheduled to start up again on the 25th. A lot could happen between now and then.
People in the Russian foreign ministry told the AFP and another Russian news outlet that "Russia is ready to serve as an intermediary between Riyadh and Tehran," and maybe even host diplomats from the two countries for talks. China is freaking out a bit, worried that this fight could spin out into a larger regional conflict. A foreign ministry spokesperson told reporters, "Like the international community, China is highly concerned about the developments and expresses concern that the relevant event may intensify conflict in the region. … We hope the relevant parties can maintain calm and restraint, properly resolve their differences through dialogue and consultation and jointly safeguard regional peace and stability."
Oil prices are starting the year out with the potential of going even wonkier, spurred by worries about what these two OPEC countries will do in the upcoming days and weeks. Financial markets in Asia also responded to developments in Iran and Saudi Arabia by tanking slightly. And if ISIS and oil markets weren't enough to worry about, NPR reminds us that the Iran nuclear deal could also get muddied up by this mess, as critics point to this recent episode as an argument for the agreement's futility.
And Back in Saudi Arabia …
Alleged Al Qaeda militants were also among those executed by the Saudis on Saturday, and affiliates of the group have since vowed revenge. According to the Times, the execution of the Shiite activists at the same time as the Al Qaeda terrorists is being interpreted by many analysts as further evidence of the Saudi regime's hard-line shift. The Saudi military is also reportedly now on high alert, and had already sent armored vehicles to the country's eastern province to confront any Shiite protests prior to the execution announcement.
Saturday's mass execution, conducted by beheadings and firing squads in a dozen prisons throughout the country, was the largest in Saudi Arabia since 1980, and further proof that executions are on the rise since King Salman came to power. On Friday, advocacy groups reported that 157 people were beheaded by the Saudi regime in 2015, the highest number since 1995. (A total of 87 prisoners were executed in 2014, according to the Guardian.) While many executions in the kingdom are mandated under the country's Islam-governed law, Human Rights Watch found many of those executed last year committed nonlethal offenses and drug-related crimes that do not require a death sentence under Islamic law. Then again, Saudi judges interpret Islamic Sharia law under the ultra-strict ideology of Wahhabism, which has also formed the ideological basis for groups like ISIS. The top Saudi cleric, Grand Mufti Sheikh Abdulaziz Al Sheikh, declared that Saturday's executions were indeed consistent with his view of Islamic religious law, and that they were necessary for the safety of the country. 
Al-Nimr's brother Mohammed has called for exclusively nonviolent responses to the execution, in keeping with the nonviolence preached by his brother. Mohammed's son Ali, who at the age of 17 was also arrested for taking part in anti-government protests, remains a political prisoner in Saudi Arabia and has been sentenced to death by crucifixion, though he was not listed among those killed on Saturday.
This post has been updated throughout to reflect developments in the story.