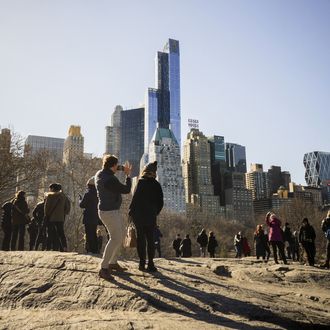 One day, if you're real lucky, you'll have enough money to buy one of those apartments, and then never live in it.
Photo: Richard Levine/Demotix/Corbis
Manhattan's skyline has grown more and more crowded with expensive living spaces that remain empty for most of the year, thanks to the fact that they may have been purchased by people — many of them foreign millionaires and billionaires — who were probably only looking for an easy place to anonymously funnel their money. As the New York Times reported last year, "About $8 billion is spent each year for New York City residences that cost more than $5 million each, more than triple the amount of a decade ago, according to the website PropertyShark. Just over half of those sales last year were to shell companies." 
Using shell companies to buy real estate is legal, but it could be masking something else that isn't. As Andrew Rice wrote in a New York Magazine story in 2014:
>
And as the Miami Herald reported in 2014:
To suggest that reputed Spanish drug lord Álvaro López Tardón liked the finer things in life would be an understatement. Before his arrest in Miami, he bought 13 bayfront condos, including a $1 million-plus penthouse at the Continuum in South Beach, and 17 luxury cars, including a 2008 black Bugatti Veyron for $1.2 million and a 2003 black Ferrari Enzo for almost $1 million. That's excluding Florida sales taxes.
Now the U.S. Treasury wants some names. According to the New York Times, the department will now be tracking luxury real-estate purchases in New York City and Miami-Dade County — the hottest destinations for people trying to pay for multi-million-dollar condos in cash — in order to try and tamp down on money laundering. Title-insurance companies dealing with shell-company purchases will have to reveal the names of those people behind the sale for the first time.
This is something that will not make rich buyers or the real-estate market happy — if you can't buy up the seemingly endless supply of ungodly expensive real estate anonymously, how many people left will be interested in making the purchase?
The information found by the Treasury will then be put into a database for any law-enforcement agencies that might be interested in potentially misbegotten gains, per the Times. The reporting requirement will only be in place for a few months, from March to August. If things look bad, it could lead to permanent changes.