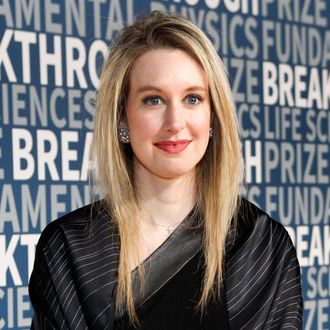 Elizabeth Holmes lands in hot water once again.
Photo: Kimberly White/Getty Images
Theranos Lab, an almost-too-good-to-be-true medical startup aimed at revolutionizing blood testing, first found its legitimacy called into question back in October. Before that, Theranos and its CEO, Elizabeth Holmes, had been media darlings, praised for groundbreaking technology that would make blood testing inexpensive and even relatively painless. But a Wall Street Journal story published that month called the company's legitimacy into question, and now a government letter has cast even more doubt on the lab's practices. The letter, dated January 25 and sent by the Center for Medicare & Medicaid Services (CMS), says the lab's practices "pose immediate jeopardy to patient health and safety" and gives it ten days to fix the issue.
According to the CMS, the "immediate jeopardy" designation is given when a lab doesn't comply with the standards mandated by the Department of Health and Human Services. It means that the lab "has already caused" or "is likely to cause serious injury, harm, or death" to its patients. Among other things, neither the analytic systems, nor the lab director, nor the testing personnel were up to snuff.
This ties in with WSJ's allegations that the lab was overstating the results of its "Edison" machine, which is what makes the pin-prick testing method viable in the first place — the Edison is supposed to glean accurate results from just a tiny blood sample. But the machine's results were reportedly so janky that Theranos used machines from legacy labs to pass government-regulatory tests.
Holmes has defended her company, but it's hard to argue with the CMS, even if you've been profiled by the New Yorker. Holmes might rightfully favor "scalable statistics" over "anonymous anecdotes," but the government's allegations are pretty damning.
Update: After the DHH's letter was published, Theranos issued a statement saying it has "already addressed" many of the issues raised in the report and emphasizing that the "immediate jeopardy" condition applies to only one area (hematology) in its Newark, California, lab.
This post has been updated throughout.