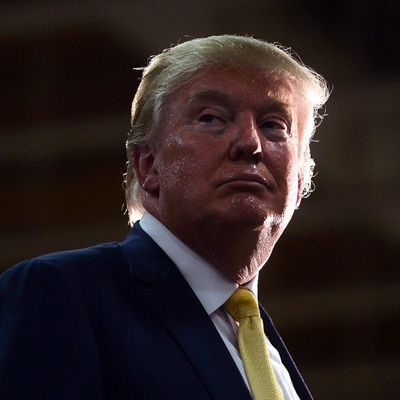 Photo: Darren McCollester/Getty Images
Tonight, Donald Trump's months-long war with Fox News entered a chaotic and — for both sides — perilous new phase when Trump called Roger Ailes's bluff and announced he was boycotting Fox's debate to protest Megyn Kelly's aggressive coverage of his campaign. Instead, Trump said he would host his own Iowa town hall to raise money for veterans and let other networks cover it. One clear sign of the gravity of tonight's development is the sense of confusion that is swirling throughout Fox. The network is split between Kelly's allies like Brit Hume and conservative anchors that are furious that Kelly — who graces the cover of Vanity Fair this month — has become the face of the network. An anchor fumed that Kelly hosted Michael Moore on her program tonight and the lefty filmmaker defended her against Trump. "That would be like Rachel Maddow laughing along with Charles Koch as he trashed Hillary Clinton!" the anchor said. One producer speculated that Fox could go "National Review" on Trump and start attacking him.
For Trump, the political risks are obvious: His absence from the Fox stage just four days before the Iowa Caucus provides his rivals with a prime-time platform to tee off on him with no chance for him to fire back. For Ailes, the risks are less immediate, but potentially as consequential to maintaining his power. No matter how loudly GOP candidates complained about Fox's loutish politics in private, none risked taking Ailes on in public for fear of losing access to this crucial constituency — until Trump, that is. Even if Trump's boycott backfires, he's already achieved a historic victory: exploding the myth that a Republican candidate can't openly challenge Fox.
 
How this all ends is anybody's guess. According to one Trump source, Trump was not taking Ailes's calls after announcing the boycott. Trump advisers are privately telling people that he will only deal with Rupert Murdoch to resolve the dispute. Having Murdoch dragged into the mess could be a serious problem for Ailes. The CEO earned Murdoch's trust because Fox generates $1 billion in profit, but also because he was always in control. But in recent months Murdoch has been attending news meetings at Fox in the wake of a health scare that forced Ailes to take an extended leave of absence. Succession planning at Fox is very much on Murdoch's agenda. If Ailes loses his grip on the Trump situation — and right now it looks like he is — Murdoch will have another reason to worry about the stability of his most valuable asset.