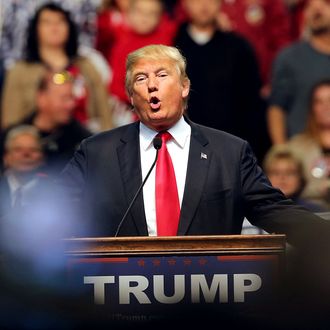 "He's coming into the hornets' nest. You've got to have some cojones to do that."
Photo: Spencer Platt/Getty Images
Burlington, Vermont, is a city of about 40,000 people. Donald Trump is visiting on Thursday night, and his campaign has given out 20,000 free tickets to supporters.
The space where he will be speaking can only fit around 1,400 people. At least 6,500 people are expected to attend.
So Trump's visit to a state that last voted for a Republican president decades ago is starting off about as well as you'd expect.
The police department says "It is common for event planners to over-issue tickets to political rallies to compensate for efforts by a candidate's detractors to reserve seats and then leave them empty" — something the Trump campaign was perhaps especially worried about in the city that houses the campaign headquarters for Senator Bernie Sanders. The Hill reports that many Sanders supporters were urging people to buy up seats online — but, again, it won't be too hard a venue to fill.
"If Phish was holding a free concert at the Flynn and gave away 20,000 free tickets, we would cancel the event out of public safety concerns," Burlington police chief Brandon del Pozo added to the Burlington Free Press. "We are committed to accommodating the campaign because political speech is the very essence of the First Amendment."
Local alt-weekly Seven Days went to check the line snaking out in front of the Flynn Center for the Performing Arts earlier today. At the front of the line was a local who has no intention of voting for Donald Trump and had been waiting since 4:30 a.m. to get inside. "I just want to ask [Trump] a question that will bother him," he said. 
Another woman in line whispered, "I'm actually for Hillary. I want to give Trump the finger or something." A University of Vermont student told WCAX, "I don't support him at all, but one day I can tell my kids, back in 2016 election, I saw Donald Trump at the Flynn."
The spectacle of seeing a presidential candidate — especially in a place that most candidates write off, given its well-documented voting history — was exciting enough for quite a few people to wait in line. It isn't clear how many of the people who end up watching the speech will be excited to cheer the candidate, who has gotten very used to inspiring rambunctious encouragement wherever he goes. Whatever happens, however, Trump is clearly already getting plenty of his favorite brand of motivation — lots of attention. Also, loud protests from a place associated with liberals is basically the GOP primary equivalent of a Girl Scouts badge.
Reporters found plenty of Trump supporters waiting eagerly to hear the candidate speak, too, many from upstate New York, not too far across Lake Champlain. One fan told Seven Days that he was not pleased by all of the "un-American" protesters who gathered outside the event and are likely to make the already overcrowded event even more of a zoo. 
The Burlington Free Press talked to one man who is glad that Trump is coming and that the "free-speech absolutists won," even though he doesn't agree with him. 
The New York Times spoke to one person in line who likes Sanders and Trump: "Bernie is my No. 1 choice, and Trump is No. 2. They're not that different."
A few of the people protesting outside the event space will be Republicans. According to WPTZ, several prominent local Republicans — a few worked for former Republican governor Jim Douglas — paid for a full-page ad in the Burlington Free Press that said, "America is great. Not perfect, but great." The Vermont Republican Party released a statement last week that read, "The Vermont Republican Party did not invite Mr. Trump and has no role in his event. Like all presidential candidates, he is welcome to share his thoughts with Vermonters."
Some business owners have found other ways to quietly protest, while still taking advantage of the fact that thousands of potential customers might be descending on downtown. A few people put Bernie signs out front. Others came up with creative Trump-themed specials.