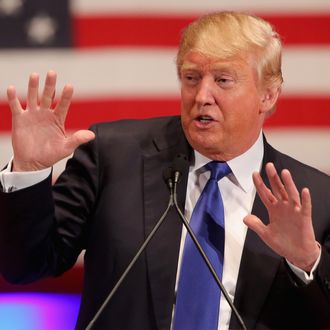 Trump has previously said he opposed same-sex marriages because he's a "traditional" guy.
Photo: Christopher Furlong/Getty Images
In what is surely a last-minute bid for more support among conservative Christians in Iowa, Donald Trump has suggested that he would seek to overturn last summer's landmark ruling legalizing same-sex marriage in the U.S. Speaking with Chris Wallace on Fox News Sunday, Trump attacked the Supreme Court's 5-4 decision, and confirmed he would "strongly consider" appointing new justices who would overturn the ruling, since he believes it should have been a states'-rights issue:
I wish that it was done by the state. I don't like the way they ruled. I disagree with the Supreme Court from the standpoint they should have given the state — it should be a states' rights issue. … This is a very surprising ruling. And I — I can see changes coming down the line, frankly. But I would have much preferred that they ruled at a state level and allowed the states to make those rulings themselves. … If I'm elected I would be very strong in putting certain judges on the bench that maybe could change thing, but they have a long way to go.
Aside from once supporting civil-union benefits for gay couples back in 2000, Trump has been a consistent opponent of marriage equality and same-sex partner benefits since then, and has maintained that he thought the marriage-rights issue should have remained a state-level decision. However, he also told the Hollywood Reporter in August that anybody continuing to fight the ruling was just playing politics:
Some people have hopes of passing amendments, but it's not going to happen. Congress can't pass simple things, let alone that. So anybody that's making that an issue is doing it for political reasons. The Supreme Court ruled on it.
Back during the Kim Davis marriage-license standoff in Kentucky, Trump additionally remarked that she should have obeyed the law, noting that, "You have to go with it. The decision's been made, and that is the law of the land."