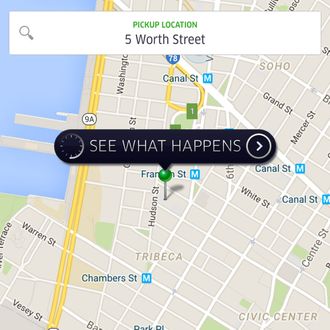 The war between Uber and taxicabs rages on. The high-tech car-service upstart went on the offensive yet again on Friday, slashing its rates for UberX and XL riders in what amounts to a 15 percent drop. It'll save most riders a few bucks per trip: A ride from the Upper East Side to east midtown, for example, will go from about $14.08 to $11.98 in an UberX. Hey, that's a soda, at least!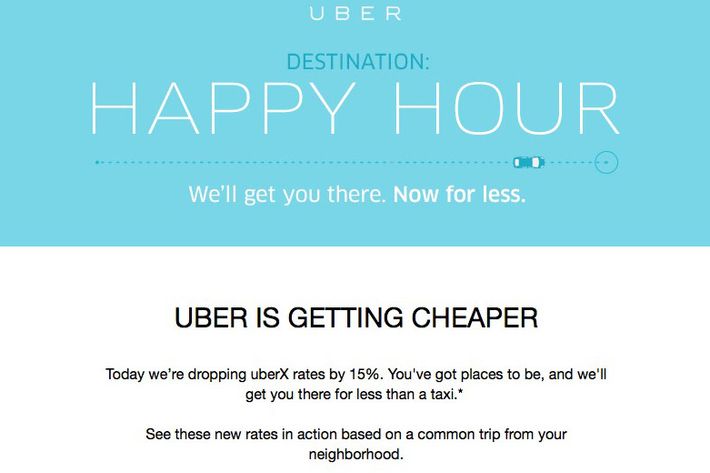 Uber justified the price drop — which, it was quick to point out, puts the rates just a bit below those of a medallion cab — by citing decreased ridership during the winter. The lower prices bring that number back up, and even if drivers are making less per trip, they'll make up the difference with fewer idle times. (Uber added that if drivers don't see more riders, it will consider revising the rates again.) The price changes in New York follow other price cuts made by the company in more than 100 cities this month.
The actual numbers break down like this: UberX's minimum fare drops from $8 to $7. The base fare dips from $3 to $2.55, the price per mile goes from $2.15 to $1.75, and the per-minute rate goes from 40 cents to 30. For those among us who'd like to avoid math, it's cheaper.
Not surprisingly, the city's cabbies are not happy about any of this. They're already losing ground to Uber, and this surely won't help them any. Taxi drivers are planning to protest outside Uber's headquarters in Queens this afternoon, reports NY1. 
This summer, Mayor de Blasio and the City Council floated, and then walked away from, a proposal that would have capped Uber's expansion. The administration still went ahead with the study, which — when it was released earlier this month — concluded that Uber and other car services didn't actually increase "overall congestion." That result, somewhat underplayed by City Hall, was still a victory for Uber on its path to transportation domination.