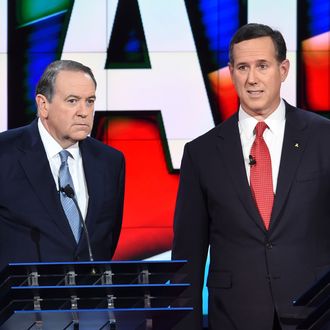 When you are a religious conservative, there's not a lot to do in Des Moines on a Thursday night.
Photo: Robyn Beck/AFP/Getty Images
When Donald Trump announced he'd be putting on some sort of fund-raiser for wounded veterans tonight after deciding to skip the Fox News debate out of pique at his "unfair treatment" from moderator Megyn Kelly last time around, nobody much paid attention to the alternative event. Now it seems he's going to have company at his pity party.
According to the New York Times' Maggie Haberman, Mike Huckabee and Rick Santorum will hop over to the Trump event after participating (along with Carly Fiorina and Jim Gilmore) at Fox's "undercard" debate. I mean, what else do they have to do?
Their appearance will be of material help to Trump. Not only will they add legitimacy and gravitas to the proceedings (you can be sure Team Trump will treat it as the 2008 and 2012 Iowa caucus winners with the 2016 champ), but they'll also lend some support to the Donald's complaints that the whole debate setup has been a travesty of unfairness. If the veterans event happens to include some thinly veiled shots from the podium at common enemy Ted Cruz — well, that's just a bonus.