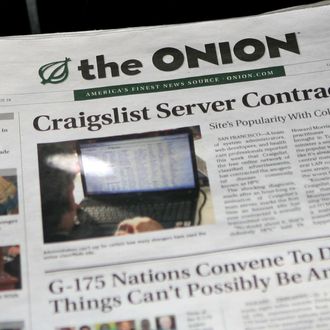 Area media empire under new management.
Photo: Justin Sullivan/Getty Images
Not content to serve only the Republican-dad-infuriating Latino population of the United States — which is increasingly made up of English-speakers — Univision has bought a controlling 40 percent stake in the Onion, NPR reports.

The Spanish-language broadcaster will become the parent of not only America's Finest News Source but also its influential culture site the A.V. Club, the newer viral-news-satire vertical Clickhole, and other books and video projects. Univision will also have the option of buying outright the 28-year-old satirical company, which was founded in Madison, Wisconsin, and now runs out of Chicago. At press time, local dads were reportedly outraged.