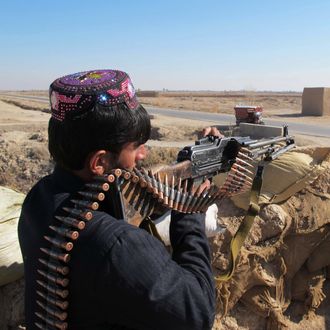 Local Afghan fighter in battle with Taliban militants in Helmand Province on December 23.
Photo: Noor Mohammad/AFP/Getty Images
A U.S. special-operations soldier was killed and two others were wounded in Afghanistan on Tuesday in a firefight with the Taliban. One U.S. medical helicopter, part of a group sent to rescue the soldiers, was disabled by mortar strikes as it arrived, and (at last report) remains on the ground. The battle is part of a recent uptick in violence in Helmand province, as the Taliban tries to retake strategic posts there.
Helmand is by far the deadliest province in Afghanistan, with almost one-third of all coalition fatalities since 2003, and the U.S.-Afghan Special Operation is an attempt to help Afghan fighters in the region, the Washington Post reports. According to iCasualties.org, 22 U.S. soldiers died in Afghanistan in 2015, six of those in December, when a suicide bomber blew himself up near Bagram air base, just north of Kabul. Marja, where the firefight took place, was controlled by the Taliban until a U.S. lead insurgency took back the town in the first mission following the 2009 troop surge.