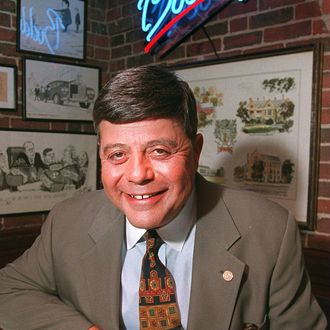 Buddy's face survives on pasta sauce labels.
Photo: Tom Herde/The Boston Globe via Getty Images
Vincent "Buddy" Cianci served as the mayor of Providence, Rhode Island, twice — from 1975 to 1984 and again from 1991 to 2002 — and was responsible for revitalizing the sleepy city and turning it into a tourist destination. He's also a convicted felon. After four decades in politics (he ran for mayor again as recently as 2014), Cianci died Thursday morning at 74, from cancer. He's remembered as much for his tenacity, his charisma, and his own musical as he is for his two convictions, each of which forced him out of office.
Cianci's first stint as mayor ended in 1984, when he pleaded no contest to attacking his wife's lover, Raymond DeLeo, with such accoutrements as a fireplace log and a lit cigarette. He didn't do any jail time then, but he did leave politics, becoming a radio talk-show host and lambasting his opponents over the airwaves. In 1990 he ran for mayor as an independent candidate and won, but in 2001 he was again indicted, this time for racketeering, bribery, extortion, and witness intimidation. "I used my public power for personal reasons. I admit it," he wrote in his memoir, Politics and Pasta (he also created his own line of pasta sauce, with his face on the label). "It probably wasn't the right thing to do, but it certainly felt good." According to The New Yorker, a Brown student once asked Cianci if there was anything he would change about his life. He replied, "The verdict."
Following that conviction, Cianci served five years, after which he was back on the radio. In 2014, issues such as zoning laws and funding for special education drew him once more into the mayoral race. (He lost.) "There is no question everyone makes mistakes in their lives," he told a group of supporters at City Hall in 1974. "But one I never made is loving the city of Providence too much."