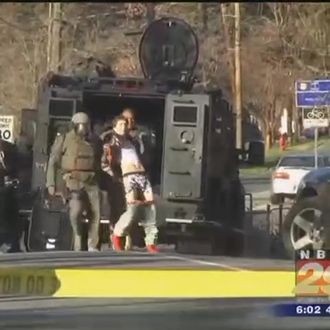 On Sunday, Vine star Bryan Silva was arrested by Virginia authorities following a tense standoff that lasted roughly three hours. Around six in the morning, Silva's teenage girlfriend called the police, claiming that "she was threatened with a firearm." Silva then apparently barricaded himself inside his Charlottesville home after police arrived with warrants for abduction and firearm possession.
During the standoff Silva posted updates on Facebook, including one video captioned, "Y'all pigs can suck my monster dick." Another video at the time showed him drinking what appears to be vodka.
Silva was arrested with his pants around his ankles.
Silva, 25, is well-known on Vine — as local CBS affiliate WTVR put it, he has "amassed hundreds of thousands of followers for making gun noises on the video sharing site" — for acting like an all-around clown and showing off a wide array of firearms. He's a walking argument for gun control.
In 2014, Silva spawned a minor meme when he posted this Vine of himself, shirtless in the bathroom, making threats to nobody in particular. His onomatopoeiac "gratata" quickly gained traction.