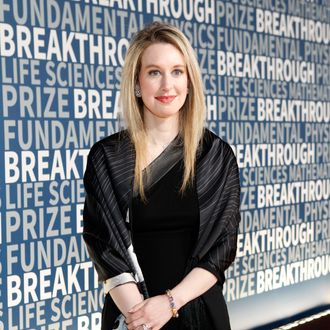 Theranos founder Elizabeth Holmes
Photo: Kimberly White/2015 Getty Images
Theranos, the Silicon Valley laboratory-testing company whose practices federal regulators deemed to "pose immediate jeopardy to patient health and safety" earlier this week, is now in trouble with its main retail partner in California, according to The Wall Street Journal.
Walgreens, the country's largest drugstore chain, announced on Thursday that it was temporarily closing its Theranos Wellness Center in Palo Alto after the Center for Medicare & Medicaid Services (CMS) issued a letter saying that the company's Newark, California, lab "has already caused" or "is likely to cause serious injury, harm, or death" to patients, giving it ten days to correct the deficiencies or risk losing its certification.
While the suspension does not affect most of Theranos's business with the chain — of the 41 Walgreens pharmacies where the company operates wellness centers, 40 are in Arizona and send their tests to a different lab in Phoenix — a further breakdown in relations between the two companies could spell trouble for Theranos, which derives most of its sales to the public from its partnership with Walgreens.
Walgreens spokeperson Michael Polzin said the businesses were "currently in discussions about the next phase of our relationship," which the Journal reports has not yet generated revenue for Walgreens.
Theranos spokesperson Brooke Buchanan said that the Arizona lab handles 90 percent of lab tests from the company's wellness centers and that the CMS findings "do not reflect the current state of the lab."
"This is an issue that many other labs have faced, and we will fix it quickly and completely, working with our regulators as we always do," she said.
In October, Walgreens suspended plans to set up more wellness centers at its pharmacies after the reliability of Theranos's proprietary testing methods were called into question.