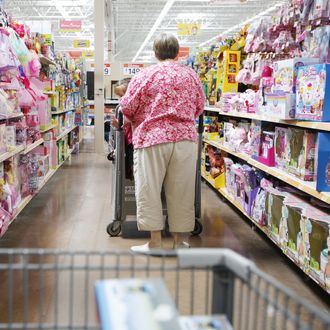 Don't worry, you can still go to the superstores.
Photo: Najlah Feanny/Corbis
Walmart, the largest and penny-pinching-est retail operation in the history of the planet, announced on Friday that it will be closing 269 of its small-format Walmart Express stores. Instead, it'll focus on what it has always done best — more superstores — plus an expansion of its e-commerce arm, making another attempt to catch up with Amazon.
Walmart Express got going in 2011, as the company tried to insert smaller stores — about 15,000 square feet, comparable to a large chain drugstore in New York — into urban neighborhoods and towns where big-box retail could not go. (The company never cracked into New York, however.) As it turned out, however, their smaller scale was not profitable enough for the notably price-sensitive retailer. Sixteen thousand employees will be relocated or laid off.
The company's refocused plan for this year is for 60 new superstores of about 100,000 square feet, and 95 Neighborhood Markets, which are a little less than half that size. That's just in the U.S.; Walmart will be opening 405 new stores worldwide in 2016.
Walmart e-commerce has a long way to go against Amazon. It's a sixth the size, generating $13.8 billion compared to Amazon's $71.8 billion, and  Walmart.com sales slowed last year. Amazon's stock price is also currently almost ten times higher than Walmart's. (Then again, Walmart as a whole is far larger than Amazon, and it also makes money.)