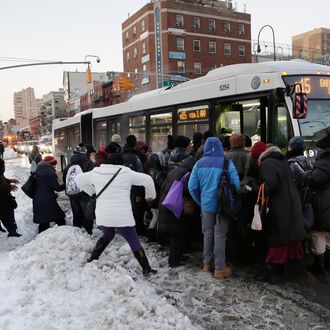 Hey, I'm not cleaning that up, man.
Photo: Mark Lennihan/AP/Corbis
On the second day after Winter Storm Jonas, vehicles can once again glide along most of New York's streets (except where they can't). Pedestrians, on the other hand, are left to clamber over frozen mounds and ford gelid salted streams, like characters in an urban remake of The Revenant. After years of policy aimed at making streets more friendly to pedestrians of all ages and abilities, after all the redesigned pedestrian crossings, new bike lanes, and retimed stoplights, a snowstorm is all it takes to make the city revert to its old priorities: first cars, then people. That graying four-foot mound you hauled yourself over this morning simply to cross the street is there because of civic decisions, not just weather.
The heaps at the curb are tough for everyone to navigate, but especially those whose mobility is limited. For days — weeks, if it snows again — the elderly live under effective house arrest. Traveling by bus can turn inadvertently exciting for people with disabilities, like the pianist Steven Blier, who gets around on a high-tech motorized wheelchair. The wheelchair lifts on the buses get slick with slush, and when they extend to snow-occluded curbs they hit at rakish angles. "I have to go at full tilt to get up the ramp, and I've been known to skid off to the side and ram into the little guardrail," Blier reports. "People pay a lot of money at Coney Island for rides like this, I always tell myself."
Don't blame sanitation workers. They invariably do a heroic job of plowing roads in mid-blizzard, clearing the way for emergency vehicles and getting the city operational again in a matter of hours. The agency also dispatches an army of temporary workers, nearly 1,000 strong on Monday, to shovel bus stops, curb cuts, and fire hydrants.
Keeping sidewalks clear is the job of property owners, on pain of modest fines. The DSNY offers politely worded suggestions — shovel paths four feet wide, leave catch basins clear, don't push snow into a crosswalk — but those guidelines leave a lot of wiggle room. Consequently, a single block offers a great variety of terrain: clear, dry sidewalks in front of one business, a goat path in front of the next, virgin glacier by a vacant store.
In between, though, you're in no-man's-land. Pedestrians who step off a curb are crossing between spheres of private and public responsibility: Keeping your left foot dry might be up to the corner deli; your right foot is on the Department of Sanitation's turf. City plows push snow up against the curb (or into bike lanes), and private snow blowers toss it back, in a game of jurisdictional cold potato. The result is protracted pedestrian misery.
It doesn't have to be this way, and in a city that really knows its snow, it isn't. Montreal's published snow-removal policy explicitly states that roads, sidewalks, curb cuts, and bus stops must be cleared simultaneously. The municipality has the gear to make good on that promise. An army of small plows patrols the sidewalks, and giant snow blowers inhale the stuff off the roads and spit it into dump trucks, which cart it away rather than merely shoving it to the side.
Specialized equipment is expensive, of course, but the city could start by recognizing that crosswalk mounds and bus-stop sludge are not natural phenomena; they're the product of policy. City Councilmember Helen Rosenthal, who has pushed for pedestrian-oriented street design, writes in an email: "As we move towards Vision Zero, we'll have to think about the order of operations to move away from a car-centric perspective." Yes, we will. Now, in the lull between storms, might be a good time to dispatch a team of officials to more snow-adept cities like Montreal and Oslo and find out how to make just walking around in winter less of an extreme sport.