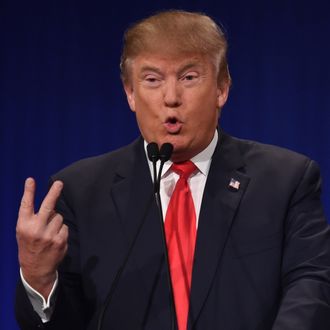 The winner, and still champion, Donald J. Trump.
Photo: Timothy A. Clary/AFP/Getty Image
Determining who won a debate is hard, because you never know the reaction insiders and voters will have, and the post-debate media spin matters more than the actual proceedings. Before last night's debate, the easy, predictable takeaway would be that Donald Trump won — mainly because Trump seems to somehow win everything in the Republican primary. But it does seem to be true that Trump won.
The reason is very simple. Republican insiders apparently agree that Ted Cruz, who took heavy fire from debate moderators showing his disingenuous positioning on immigration, fared the worst. (Politico headline: "GOP insiders: It was a rough night for Ted Cruz.") Republican insiders also agree that if Trump wins Iowa, he may have clear sailing to the nomination, as he already commands large leads in the next two states. (Politico headline: "An Iowa win might make the Trump train unstoppable.") And Cruz is the major threat to stop Trump from winning Iowa. Ergo, Cruz losing means Trump wins.