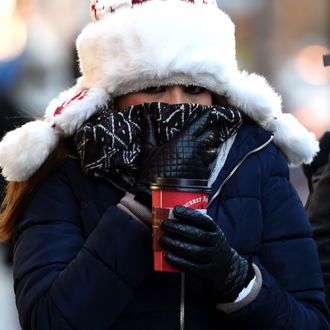 Brrrrrrrrrrrrrrrrrrrrrr.
Photo: Timothy A. Clary/AFP/Getty Images
Remember when it was really sad and warm on Christmas Eve, and many New Yorkers just wanted the weather to be seasonably appropriate? It appears the weather gods got the message, albeit a few weeks late. Those of you who wanted it to remain warm for the rest of winter, apologies. It is going to be miserably cold and windy today — just as bad as it was last night. 
And yes, we hear you, people who think those hoping for a White Christmas have brought punishment on us all. 
If it makes you feel better, it is frigid all across the northeast. 
According to NBC4, this is the coldest it's been in the city since last March.
Judging from Twitter, this could be very hard — especially since the city still has yet to get a good dusting of snow. 
If you need to find your happy place, DNAinfo reports that the Painted Bunting is still hunkered down in Prospect Park, despite the unfriendly weather. 
Meanwhile, the governor and mayor are still bickering about the best way to help the homeless during these dangerous cold snaps. This weekend, Governor Andrew Cuomo signed an executive order forcing the city to bring all people out on the streets during freezing temperatures indoors — even those who are unwilling to come. On Monday, Mayor Bill de Blasio said that the rule was redundant, based on what the city has already done for decades. "It doesn't change what we do and what we have done for many years. If someone's in danger we will take them off the streets. That's always been policy. If someone is in danger, we bring them in, period. If someone's not in danger, the law says that they still have rights to make that decision themselves." NYPD police commissioner Bill Bratton added, "I don't see it changes anything in what we actually do or what we have done for 20 years."
City workers have been monitoring the streets for people who need to be brought indoors to escape the weather. The New York Times talked to a few homeless people about the order; they mostly seemed upset by the idea of being forced inside. "You want to take people," Sheila Turner, who has been homeless for 30 years, said, "snatch them up, put them somewhere they don't want to be, like an animal?"