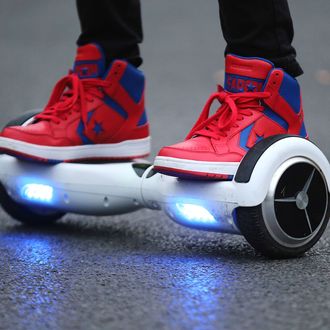 See something, say something.
Photo: Christopher Furlong/Getty Images
One less thing to worry about on the subway: hoverboards. The MTA has officially included the Segway knockoffs on its list of banned items on subways, buses, and commuter rails. Technically, they were sort of already prohibited — according to the MTA, people aren't allowed to use scooters or skateboards at stations. It's also against the rules to bring hazardous substances onto platforms and trains, and hoverboard batteries have a history of bursting into flames. So now the transit authority is really just explicitly telling you not to drag your exploding motorized scooter onto the subway. 
But more important than the actual ban itself is the welcome addition of another bubble-person campaign into the mix. Transit officials will be unrolling a new "Hoverboards Not Allowed" ad, shaming them alongside manspreaders and subway dancers. Which is to say, sure, these hoverboards ads will work.
Right now hoverboards are banned in New York State. They're classified as motorized vehicles, but since they aren't registered with the DMV, they're actually illegal. State legislators in Albany were debating a bill last month to legalize them for recreational purchases. The NYPD has already come down against hoverboards and announced last year that street riders would be subject to a $200 fine. Other states are also considering rules for hoverboards, and the machines have been banned on forms of public transportation in some cities. Amtrak rails and many airlines won't allow them onboard, either — even if you're Russell Crowe.