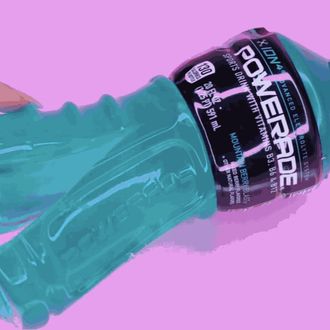 What's so great about this video of a bottle of blue Powerade sports drink? Everything, really. Let's start with this: It's actually a giant gelatin-based gummy candy that looks exactly like a blue Powerade. It's edible, you can slice it with a knife, and it's just one of the weird, hypercute things you'll find on a weird, hypercute YouTube channel called Fluff Berry Puff.
Fluff Berry Puff might be Korean, based on the titles of her YouTube videos, but it's hard to tell for sure, because she never shows her face and she never speaks. She just silently shows viewers how to make giant gummy Coke bottles, gummy Starbucks tea cups, edible Nutella Play-Doh, and milk pudding inside a milk carton.
Fluff Berry Puff's Candyland aesthetic is defined by soft, brightly colored food products, bright-pink backgrounds, and painted nails. In this way, she's got a lot in common with the soothing toy-unboxing videos that dominate the competition for kids' attention on YouTube.
Fluff Berry Puff does some toy-unboxing of her own, mostly favoring Thomas the Tank Engine and a series of food-making toys called Yummy Nummies. She also really liked this huge turtle that expands in water:
It's quirky, but it kind of makes sense. And more than 40,000 subscribers on YouTube are understandably fascinated with it. The world can feel scary and broken a lot of the time, especially filtered through the cynical internet, so watching a friendly woman (well, a friendly woman's hands) build and squish gummy food is a pleasant diversion.