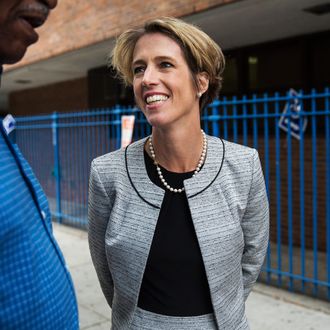 Try, try again.
Photo: Andrew Burton/Getty Images
Zephyr Teachout, a progressive activist and law professor who did surprisingly well in the 2014 gubernatorial primary against Andrew Cuomo, just announced on Monday that she plans to run for the open seat in Hudson Valley's District 19. 
The incumbent representative, moderate Republican Chris Gibson, is retiring, and Democrats are exceptionally eager to take back the district, which tends to vote Democratic during presidential elections, although it is rural enough that it can swing red in midterms or close legislative races. Democrats have not had much luck attracting good candidates to the district lately; their last pick, you might remember, was Sean Eldridge, husband of Facebook co-founder and soon-to-be-former-owner of The New Republic Chris Hughes. 
Although Teachout, author of Corruption in America: From Benjamin Franklin's Snuff Box to Citizens United, showed how irked many upstate and liberal Democrats were with Cuomo two years ago — the New York Times noted that she was the "strongest challenge to an incumbent governor since primaries for the office were established in New York in 1970" — she hasn't had much electoral success. Last summer, Teachout took over Larry Lessig's Mayday PAC, which had absolutely no effect on all the races it got involved in during the 2014 midterms. 
She starts out the campaign with the support of the Progressive Change Campaign Committee and the Working Families Party — which endorsed Cuomo for governor in 2014 — and a thumbs-up from most county chairs in the district. A report from Roll Call earlier this month, however, shows that some Democrats might still be worried about Teachout — perhaps especially the fact that she might fall victim to one of the most favored campaign insults upstate: the carpetbagger offensive. Eldridge faced accusations that he only moved to the Hudson Valley to run for office, as did both major candidates in the 21st District in 2014. However, the Times Herald-Record notes that she "beat Gov. Andrew Cuomo in Ulster and Sullivan counties by ratios of more than 2-to-1."
Teachout moved to Dutchess County about a year ago and commutes to Fordham Law for work. 
As the Times Union notes, she is the second person running who has already lost a gubernatorial race; former Assembly minority leader John Faso lost in 2006 and is currently perceived to be the Republican primary front-runner in the 19th. Four other Republicans are running.
Gibson, on the other hand, has been seen as someone who might try to run statewide in 2018.