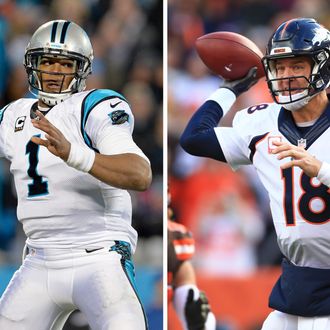 Sunday's starting quarterbacks: Cam Newton and Peyton Manning.
Photo: Andrew Weber/Getty Images
The NFL's season culminates on Sunday with Super Bowl 50 — no roman numerals this year — which will pit the dominant defense of the Denver Broncos against Cam Newton and the explosive Panthers' offense. The game could also be the final one for Peyton Manning, the future Hall of Famer who may call it a career win or lose. Here, ten things to know about Sunday's big game.
1. The Panthers are favored to win.
Carolina went 15-1 during the regular season, and opened at one sports book as a 5.5-point favorite. For what it's worth, the Panthers are the pick to win based on EA Sports' simulation of its Madden 16 video game. The simulated game — which Carolina won this year 24-20 thanks to a last-minute, game-winning dive into the end zone by Cam Newton — has correctly predicted the winner in nine of the last 12 Super Bowls.

2. Cam Newton was historically great this season …
Newton's widely expected to win the MVP after a breakout year in which he led a Panthers offense that averaged 31.3 points per game, tops in the league. His all-around game puts him in elite company: Via USA Today, his 45 total touchdowns this season (combining passing and rushing scores) were the seventh-most in history. How important was he to the Carolina offense? Between his 3,837 passing yards and his 636 yards on the ground, he had a hand in 76.2 percent of the team's total for the season. That's the second-most ever among quarterbacks with at least 42 combined touchdowns in a single season.
3. … while Peyton Manning may have had the worst season ever for a Super Bowl quarterback.
Via FiveThirtyEight, Manning had the second-worst season among starting Super Bowl QBs in a stat called adjusted net yards per attempt, which is designed to quantify a quarterback's contributions using a single number by looking at various metrics, including passing yards, touchdowns thrown, and interceptions thrown. The only Super Bowl starter below Manning was Vince Ferragamo, who started just five games for the 1979 Los Angeles Rams, in an era when passing was less important than it is now.
4. Speaking of Manning, he'll also be the oldest Super Bowl quarterback ever.
At 39 years and 320 days old, Peyton will be the oldest man ever to start a Super Bowl at quarterback. (John Elway currently has the record, followed by Manning himself, who started for Denver in the Meadowlands Super Bowl in 2014.) Manning, who also battled injuries this season, reportedly has told friends that Sunday's game will be his last.
5. Staying in San Francisco could cost you a fortune this week.
Via SFist, one guy tried to rent out his three-bedroom apartment for the weekend for some $10,000 a night. The Fairmont hotel is asking for $1 million for its penthouse suite for the weekend. And one person near the city's Panhandle neighborhood is asking $900 per night, per person, to crash on air mattresses in an unfurnished living room.
6. As usual, you can wager on just about anything.
Among the prop bets for this year's game: the number of times the announcers will use the word "dab" or "dabbing" (the over under is set at 2), the color of Beyoncé's shoes during the halftime show (black is the favorite at 3/2), and whether there will be an earthquake during the game ("yes" has 10/1 odds).
7. Denver's defense is awesome.
The Broncos made things miserable for Tom Brady in the AFC title game, and they've been great all season. The Broncos allowed the fewest yards in the NFL this year, led the league in sacks, and generated pressure on the highest percentage of quarterback dropbacks. They also allowed the fewest yards per rush of any team in the league.
8. There isn't much history between Manning and Newton.
The two quarterbacks have faced off just once before: a 2012 Broncos rout of Carolina in which Newton was sacked seven times. But November of 2012 was a long time ago: Newton was in just his second pro season, and Manning was still putting up excellent numbers in his first season in Denver.
9. Many San Franciscans aren't wild about hosting the game …
The actual Super Bowl will be played at the 49ers' home stadium in Santa Clara. But many tangential events are taking place in San Francisco proper, and it's caused disruptions for residents. Sculptures promoting the game have been vandalized, and some residents have complained about the money the city is spending as a result of the game. Adding to the tensions: the controversial decision to clear homeless people who'd been located near the sites of Super Bowl–related events.
10. … but outside of San Francisco, there have been fewer controversies than last year.
The lead-up to Super Bowl XLIX was two weeks of stories about Deflategate, Marshawn Lynch's refusal to answer questions, and a host of other controversies, many of which were quite dumb. But this year hasn't been as bad, though the report alleging a link between Peyton Manning and HGH remains in the news, and stories about concussions and football continue to hang over the sport. On a less serious note, there's also the lingering question of exactly which Broncos player told Sports Illustrated after the AFC title game that "I tried to lay on [Tom Brady] a few times. I tried to rub my nuts on his face." Some have speculated that it was Denver's Von Miller, but he says it wasn't him.