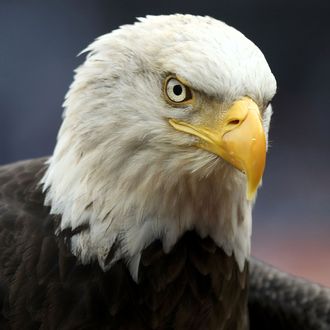 RIP, Sam.
Photo: Nick Laham/Getty Images
In an event that has nothing to do with the state of our democracy, 13 bald eagles were found dead near a farm on Maryland's Eastern Shore on Sunday evening. According to the Baltimore Sun, a man searching for shed deer antlers noticed four dead eagles and alerted the Maryland Natural Resources Police. When officers arrived, they discovered nine more corpses. Candy Thomson, a spokeswoman for the police, told the Washington Post that the incident was turned over to the U.S. Fish and Wildlife Service, which will continue the investigation.
No one is sure how the birds died, and police declined to give any further details. Bald eagles have been off the endangered-species list since 2007, and the species has made an incredible comeback since 1963, when only 417 mating pairs could be documented in the lower 48 states. But they're still considered a protected species, and federal law says anyone who kills a bald eagle is subject to arrest. Given his relationship with the birds, Donald Trump is hardly above suspicion.