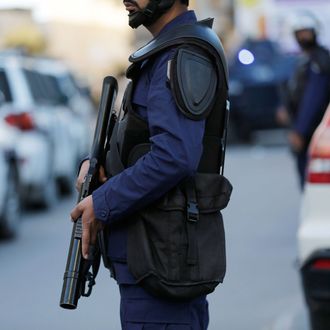 Bahrain versus freedom of the press.
Photo: Corbis
The four American journalists detained in Bahrain on Sunday were formally charged and released on Tuesday, according to the kingdom's state-run news agency. The journalists — arrested while filming a demonstration marking the fifth anniversary of the uprising in the Persian Gulf island nation — were released with the caveat that there may be further investigation but are free to go wherever they please. On Tuesday night, according to their defense lawyer, they were headed to the airport and planned to leave the country.
Freelance journalist Anna Therese Day and her three-member camera crew were initially accused of entering the country illegally. Police said they had provided "false information that they were tourists," and prosecutors claimed they were "disturbing public order and exposing modes of transport to danger." They were officially charged with unlawful obstruction of vehicles and attending unlawful gatherings.
"It is sad that the fifth anniversary of the 2011 protests has been marked by the arrest of yet more journalists in Bahrain," a group called the Committee to Protect Journalists said in its call for the crew's release. Bahrain, the group says, is currently detaining at least five other journalists and often equates reporting on anti-government demonstrators with joining them.