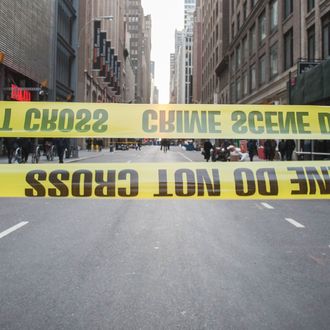 So far, none of the drivers have been identified.
Photo: Bryan Smith/Corbis
In just four hours yesterday, four pedestrians and one cyclist were struck — and three were killed — by motor vehicles. The first incident occurred at 1:30 a.m. when 63-year-old Jose Contreras was fatally hit as he walked near the on-ramp of a Bronx highway, the Daily News reports. He was crossing Webster Avenue when a black SUV struck him before speeding away; Contreras died at St. Barnabas Hospital. Less than an hour later, a 22-year-old woman was hit by a silver minivan in Jamaica, Queens; she was taken to Jamaica Hospital Medical Center in critical condition, according to the New York Times.
Then at 3:30 a.m., police responded to a call at Prince Street and Sixth Avenue in SoHo where a 30-year-old man had been struck by an unidentified vehicle while he was crossing the street; he went to Bellevue in critical condition. About an hour after that, two more hit-and-run incidents occurred almost simultaneously: A 41-year-old cyclist was hit by a gold sedan in Park Slope, and Besik Shengelia, 48, was killed by an unidentified vehicle in Queens as he rummaged in the backseat of his car. None of the five drivers has been identified, and police are working on all the cases.
Last year's record number of hit-and-runs — 38,000 in all — prompted lawmakers to consider upping fines for the incidents. "I think it's staggering," Councilman Jimmy Van Bramer, who recently sponsored a bill that imposes harsher penalties on hit-and-run drivers, told the Daily News. Van Bramer's bill, which fines repeat offenders up to $20,000 and requires the NYPD to report data on hit-and-run civil penalties, became law in January. The bill "sends a message to criminals who think they can get away with leaving a fellow New Yorker on the side of the road to die," Van Bramer said. "If you break the law, we will find you and punish you."