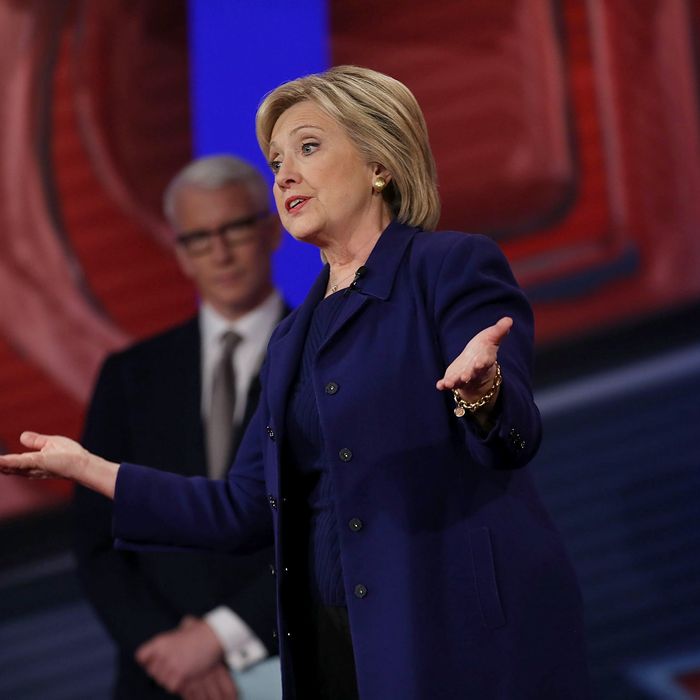 Clinton at the town hall.
Photo: Justin Sullivan/2016 Getty Images
Did CNN actually need to air a town hall in Derry, New Hampshire, tonight when Hillary Clinton and Bernie Sanders are set to debate on Thursday? Maybe not, but the event did yield some fun and interesting moments from the Democratic candidates. The two disagreed on whether Clinton is a progressive, Sanders went after Trump, and Clinton shared some Oprah-esque thoughts on gratitude. Here are the top moments.
1) Sanders Says Clinton Isn't a Progressive, Continues War on Sitting
Once again, Sanders criticized his rival in the nicest way possible, describing all of her positive attributes before saying there are issues "where I think she is just not progressive. I do not know any progressive who has a super-pac and takes $15 million from Wall Street. That's just not progressive."
2) Clinton Says If She's Not Progressive, No Democrat Is
Sanders doesn't get to tell President Obama, Vice-President Biden, Planned Parenthood, and the Human Rights Campaign that they're not liberal enough.
3) Sanders (Sort of) Endorses "Well-Known Scientist" Donald Trump
Because he wants to run against him.
The feeling is mutual.
4) Clinton Admits "This Is Hard for Me"
She opened up about not being a natural politician like her husband. "You know, I never thought I'd be standing on a stage here asking people to vote for me for president. I always wanted to be of service. I met my husband, who was such a natural, knew exactly what he wanted to do," she said. "I never thought I would do this. And so I have had to come to grips with how much more difficult it often is for me to talk about myself than to talk about what I want to do for other people."

5) Sanders Reveals the Shocking Truth
Why does he sound so much like Larry David? Because he is Larry David!
6) CNN Reveals an Even More Shocking Truth About Hillary
She's actually the Dramatic Chipmunk.