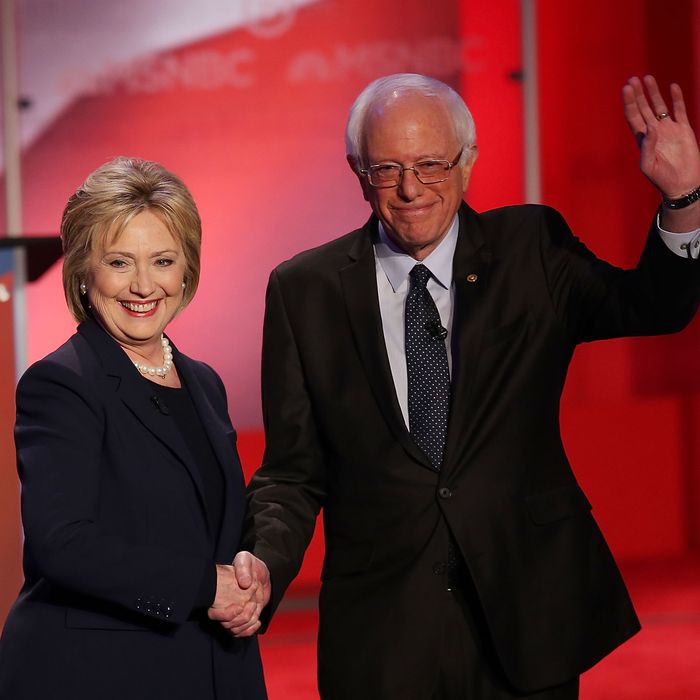 It all started out so friendly.
Photo: Justin Sullivan/2016 Getty Images
Still can't decide if you prefer your Democratic candidate hopelessly idealistic or boring and practical? On Thursday night, you'll get a chance to see Hillary Clinton and Bernie Sanders face off yet again, just a week after their last debate. At this point you may feel like if you've seen one debate, you've seen them all, and we can't promise you that Clinton won't declare she's a "progressive who gets things done" as Sanders pivots back to his gripes with Wall Street whenever possible (in fact, we're almost 100 percent positive that those things will happen). However, last week's seemingly unnecessary MSNBC debate turned out to be one of the best of the 2016 race so far, and after Sanders beat Clinton by 22 points in New Hampshire, they have a lot to talk about. Here's a guide to get you up to speed, and be sure to tune in later for Daily Intelligencer's liveblog and complete coverage of the debate.
When and where is the debate being held?
Thursday at 9 p.m. EST at the University of Wisconsin–Milwaukee.
Why is this debate being held?
This is one of the original Democratic debates, not one of the four debates added last week. Yes, it's hard to believe that the DNC scheduled a debate for a weeknight, but the GOP had already called the Saturday of Valentine's Day weekend.
How can I watch it?
The debate will air on local PBS stations and you can stream it on PBS.org here. CNN will also simulcast the debate and stream it on CNN.com.
Hasn't CNN had enough of its own debates?
Yes, it's already sponsored three debates since September (not to mention several town halls), and it's set to do three more in the next few weeks. The Washington Post reports that CNN approached PBS after previous debates drew high ratings. The cable-news network is paying NewsHour and producing station WETA of Arlington an undisclosed sum to license the debate. There's only one intermission, so CNN has to run all of its ads during that break. CNN has no editorial input.
Rick Schneider, president of NewsHour Productions and WETA's chief operating officer, said the deal works for PBS because fees paid by CNN will allow the outlet to come "close to break-even" on production costs. He also thinks the simulcast will bring more viewers to PBS. "I think the PBS audience will watch on their PBS station, and CNN will expose our debate to [CNN's] audience," he said. "It will raise awareness of PBS NewsHour and our anchors … I'm not worried that it will cannibalize our audience."
Who will be there?
This will be the second debate in which Hillary Clinton and Bernie Sanders go head-to-head. Despite finishing fourth in New Hampshire, sadly Vermin Supreme did not qualify.
Who's moderating?
PBS NewsHour co-anchors and managing editors Gwen Ifill and Judy Woodruff. PBS has partnered with Facebook, and you know what that means: Undecided voters were invited to submit questions via the social-media site, and "during the debate, NewsHour will incorporate live Facebook data into the conversation."
What will the stage look like?
Surprisingly, they're going with a red, white, and blue motif.
How are the candidates preparing?
Clinton is getting ready by completely rethinking her campaign strategy and message. Okay, that's actually about her loss in New Hampshire and near-tie in Iowa, but we may see a slightly different Hillary onstage tonight. The New York Times reports that Clinton "turned to old friends and advisers from the White House years and previous campaigns to help her better frame her candidacy" in light of Sanders's success. She also reportedly received additional media training to address complaints that she "shouts." She's competing against the shoutiest man in politics, but that's a problem for some reason (sexism).
Meanwhile, Sanders spent the one-day lull between political events raising lots of money. His campaign said that since the polls closed on Tuesday, it's raised $5.2 million.
Will there be a lot of fighting?
Signs point to yes. The last Democratic debate was probably the most substantive of the 2016 race so far, with Clinton and Sanders delving into their competing visions for the party. Their matchups have also been increasingly heated, with Clinton telling Sanders last week "enough is enough. If you've got something to say, say it directly."
Since then, the Democratic race has only gotten more contentious. Clinton has a small lead over Sanders in Wisconsin, and a much easier path to the nomination, but Sanders's recent successes have exposed Clinton's weaknesses, particularly with young people and women. Last weekend, Bill Clinton tore into Sanders (without mentioning his name), and now the pair are beginning to fight for the support of minority voters, who are key to Clinton's success.
It's possible Hillary's new strategy will entail killing Bernie with kindness, but with the Vermont senator stealing her momentum, it seems more likely that she'll step up her attacks on Thursday night. Though, in a sign of how bizarre this race has become, we have to note that you'll never hear the two Democrats hurling vulgar insults at each other.