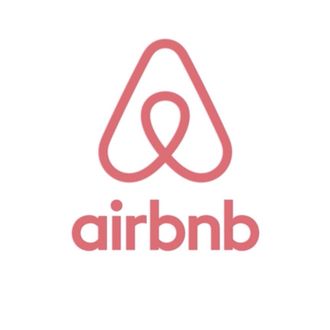 Airbnb, one of the crown jewels of our exciting, broken new "sharing economy," is supposed to let ordinary folks make some extra cash by renting out their spare rooms or unused homes. But according to a new report, Airbnb manipulated its data to hide the fact that a lot of renters in New York City are businesspeople with multiple properties listed on the site. That could be a big deal in Airbnb's ongoing battle to show that it doesn't violate the short-term housing laws in NYC, its single biggest market.
In December, Airbnb responded to criticism from City Council members by releasing a new set of numbers, which claimed that only 10 percent of New York City Airbnb hosts were listing multiple rentals. These "multi-listings" are a major reason that officials allege Airbnb users are running illegal hotels, so the company has incentive to downplay them as much as possible.
And, according to a bombshell report by Murray Cox of Inside Airbnb and sharing-economy skeptic Tom Slee, that's exactly what Airbnb did. The numbers the company released in December were supposed to represent a typical day for Airbnb in the city — they chose to look at November 17, but Cox and Slee claim that just before that date, Airbnb purged 1,000 "entire home" listings citywide. Many of them were the controversial "multi-listings."
The upshot is that while 19 percent of the listings were "multi-listings" for most of the year, the figure was only 10 percent on that day in November. Cox and Slee say it's already going back up after the purge, and now sits at around 13 percent.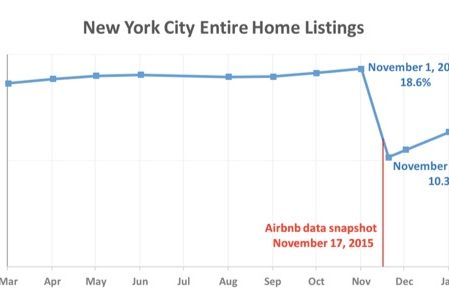 City officials already want to flag "entire home" listings as illegal hotels, but Airbnb's party line is that its renters are just folks, not illegal proprietors, and the city shouldn't be hitting them with heavy fines.
"Airbnb officials argued the data showed that renters, whom they repeatedly characterized as middle class, were simply using the service to supplement their incomes," the New York Post reported in December, just after Airbnb had released its numbers.
So, to Cox and Slee, the motive and the evidence are unambiguous — Airbnb "Photoshopped" its data.
Speaking to The Guardian, an Airbnb spokesperson wouldn't confirm or deny that the data had been manipulated through a "purge," but did offer an alternate explanation for the discrepancy: Maybe there were just lots of extra listings in October, when tourists come in for Halloween and the New York City Marathon, and the number of listings went down in November.
"The facts are clear for all to see – the vast majority of our hosts are everyday people who have just one listing and share their space a few nights a month to help make ends meet. Airbnb is an open people-to-people platform where listings come on and go off throughout the year," according to Airbnb's official statement.
The facts do certainly appear to be clear — they just might not be the facts Airbnb wanted all to see.