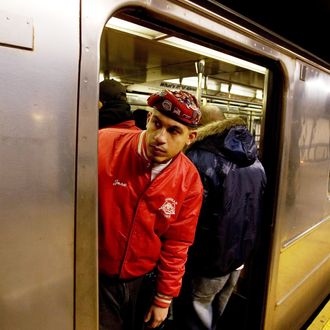 Photo: Robert Nickelsberg/Getty Images
A man was slashed with a blade after boarding the 3 train in East New York, Brooklyn, on Monday afternoon. This was the eighth slashing attack to take place in the subway system so far this year, reports the Post, a total that nearly triples the number of incidents compared to this time last year.
The attacker apparently spilled coffee down the back of Steve Jean Baptiste, who was waiting on the platform for a Manhattan-bound train shortly after noon. "Wanna fight?" the man said — reportedly unprovoked — after he'd dumped his drink on Baptiste. Both men ended up boarding the same train car, and before they reached the next stop, the attacker drew a knife and swiped it across Baptiste's chin, leaving him with a deep gash on his face. 
The assailant, 37-year-old Stephen Brathwaite, was arrested a few stops later at Utica Avenue, taken into custody, and indicted on assault charges Tuesday morning. Police also retrieved the knife, which rode the subway for a couple more stops after its owner was caught. The victim, Baptiste, was treated at the hospital with non-life-threatening injuries, though Gothamist reports his wounds left him in "substantial pain."
The recent string of underground slashings has put subway riders on high alert — even if the attacks are random and likely unrelated. For example, a 27-year-old man was cut in the face Sunday morning at the 110th Street station after an argument with stranger; earlier that week, a 71-year-old woman was sliced with a knife on a downtown D train — that attacker was caught after a tip from his girlfriend's grandmother. "It is alarming to people," Joseph Fox, the chief of the New York Police Department's Transit Bureau, told the Times last week. "Everyone sees themselves in that place."
On Monday, the Guardian Angels started patrolling the trains. This is the first time in more than two decades (1994, to be exact) that the safety group will keep up regular day and night shifts on the subways.
The NYPD also amped up its police presence on the subways cars and platforms last week in response to the uptick in these crimes. Commissioner Bratton, however, called the rash of slashings an "aberration" during an interview Monday with the "John Gambling Show" on AM 970. "We'll deal with it," Bratton explained, "and as we go forward in the year those numbers will decline."
Bratton also talked about a plan the NYPD had reportedly floated internally last week of keeping career criminals off public transportation. If the plan sounds a little sticky, that's because it's probably illegal. Still, Bratton stressed there should be a way to protect riders against these types of brutal assaults. "Some of the career recidivist criminals use the subways to prey on victims," the commissioner said. "We must find some way of excluding them from the subways as a condition of their parole."