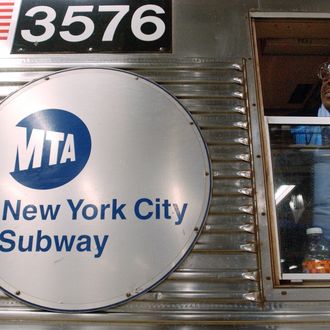 Remember the days when we just worried about delays?
Photo: Spencer Platt/2003 Getty Images
Yet another person was slashed on a New York City subway Friday morning during the busy rush-hour commute, making this the 15th slashing in the transit system so far this year.
This time, a 53-year-old man boarded a crowded train at the N/Q/R stop at 57th Street–7th Avenue in midtown around 8:15 a.m. when he reportedly knocked into another straphanger. The two men had an "exchange of words," says the NYPD, and things escalated to the point where the man who'd gotten bumped whipped out a blade and cut him across the left side of his face and chin and on his left hand.
The attacker fled at the next stop and is apparently still at large. The victim waited two stops to get off, at Lexington and 59th Street, where he — if we may say so — pretty stoically walked to work as he bled, then called the cops from his office. The victim went to Lenox Hill Hospital for treatment but is expected to be okay. 
The attacker's identity is unknown, and cops aren't sure whether the incident happened on the N or R. This is the latest in a string of NYC slashings, both under and above ground. Felony crime is up on public transit by 36 percent in January 2016 compared to last year. The MTA is trying to put together a database to track repeat subway offenders to respond to this uptick in assaults and other crimes. Till that happens, let's return to today's original and somewhat-less-depressing subway programming: cute pets that managed to cause massive train delays.