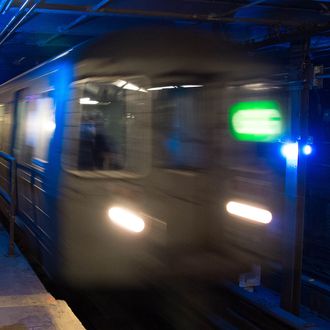 Photo: Robin Schmitt/CC/flickr
It's been an awful winter of subway slashings in New York, and Monday a Queens man allegedly joined the list of the attacked after waking a sleeping man on a G train platform. Anthony Purdie, 54, of Brooklyn, was asleep on a bench in the Classon Avenue station when Ricardo Medina, 33, attempted to wake him up shortly before 3 a.m. An argument ensued, according to the Post's sources, and Purdie, who once served 14 years for stabbing someone to death with an ice pick, allegedly slashed Medina across the nose with a box cutter.
Purdie fled after the alleged attack and ran to the 88th Precinct, where he told police that someone had tried to rob him. Minutes later, Medina (who, the Post notes, has been arrested more than a dozen times himself for robbery, assault, and burglary) walked into the station and accused Purdie of slashing him, telling cops that he'd shaken Purdie to make sure he was all right. Purdie was arrested and charged with assault and menacing.