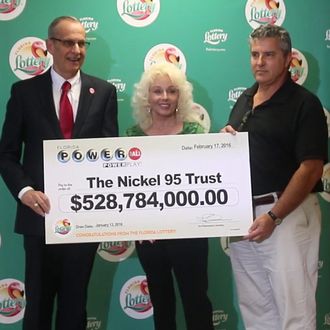 Let's think back to last month, shortly after you realized you wasted a fair number of dollar bills buying tickets for a nearly $1.6 billion Powerball jackpot you did not even come close to winning. Yet three people were lucky enough to pick — or at least let the machine pick — the right numbers. On Wednesday, a Florida couple with the second winning ticket of the three came forward to cash in on their roughly $528 million.
Maureen Smith and David Kaltschmidt are taking the lump sum, which ends up being a slightly less impressive $327 million. The pair, originally from Long Island, haven't thought too much about how they're going to spend their riches, but what they do have planned sounds like a pretty decent way to celebrate their multimillionaire status: Maureen is going to get a massage; David is going to retire and get a new truck. 
They're establishing a trust — called Nickel 95 — to help them spend their money. But both said they were pretty stressed about coming out as Powerball winners and managed to keep it a secret from family and friends until now. "I lost over 10 pounds, too—it's a lot of pacing at night," Kaltschmidt said.
One other winner may also be dreading all of the relatives that are going to come out of the woodwork. That mystery person bought a lucky Powerball ticket in Chino Hills, California, and has about five more months to claim it. The first winners, a married couple from Tennessee, got their oversize check shortly after the drawing in January.