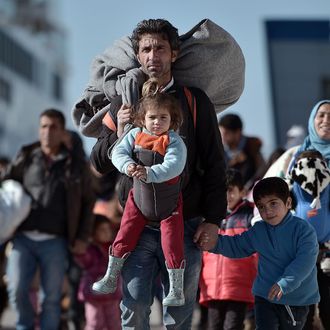 Arizona has taken in about 3,000 refugees a year for the past three years.
Photo: Louisa Gouliamaki/AFP/Getty Images
In a brave show of empty chest-thumping, Arizona lawmakers have passed two bills aimed at making it more difficult for the federal government to resettle refugees in their state. According to the Phoenix New Times, the first, House Bill 2370, withholds state resources from refugees in Arizona who haven't undergone a criminal and health background check and requires the federal government to "fully compensate" the state for "ongoing costs" of resettlement. The second, House Bill 2691, calls for an audit to determine the number of refugees resettled in Arizona in the past three years and how much money the state and federal governments have spent on their behalf. Both bills were passed by a House committee Wednesday and now await a House vote.
"This bill makes a statement: We can't have another 9/11 or another San Bernardino," said Republican representative Noel Campbell, choosing to ignore the fact that neither attack was perpetrated by refugees. "The people of this country are fearful. When people come in who are not properly screened and cause great damage, we have the right to have the feelings we have."
Feelings aside, refugees who enter the United States are screened — they go through a thorough process that involves fingerprinting, several rounds of interviews, and vetting by the U.S. State Department, the Department of Homeland Security, and the FBI. The whole thing can take months or even years to complete and includes both criminal and health background checks, which means H.B. 2370 is essentially hot air. What's more, according to the State Department of Economic Security, Arizona's Refugee Resettlement Program, which helps refugees learn English, find jobs, and navigate state regulations, is entirely funded by the federal government.
And H.B. 2691 is just as frivolous, considering the Refugee Resettlement Program keeps track of how many refugees are resettled in Arizona every year. (For the record, in the past three years the state has resettled 11,339 people; you're welcome, Representative Campbell.) State Democrats who opposed the bill said it was both redundant and fearmongering. "I'm concerned that Arizona has a reputation for demonizing foreigners," Representative Rebecca Rios told the New Times. "I don't think this bill actually does anything but send another message that we are driven by fear." A legitimate concern, given Arizona is home to the "reasonable suspicion" law.