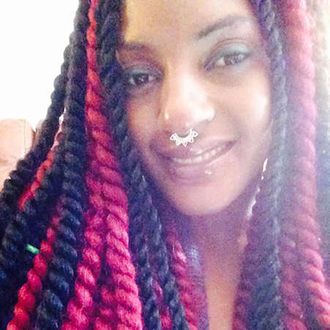 Gloria Fields made her first appearance in Manhattan criminal court on Wednesday.
A babysitter has been charged with second-degree murder and seven counts of assault, including one count of aggravated sexual abuse, in the death of a 16-month-old boy left in her care last weekend. Gloria Fields, 31, was arrested after the medical examiner's office determined that Anthony Delgado died of blunt-force injuries to his head and torso. Fields made her first appearance in Manhattan criminal court yesterday, where prosecutors gave graphic accounts of the abuse she inflicted, including "slamming the baby's face to the ground" and "shoving a Crayola pencil up his rectum and leaving it there for a day and a half," PIX11 reports.
Anthony's mother, 25-year-old Marta Delgado, separated from the boy's father in December and occasionally relied on Fields to watch her child, the New York Times reports. (Fields lives in the same Staten Island apartment building where Anthony did, as well as several of his relatives.) Last weekend, Marta Delgado, who was moving to a new apartment, dropped off the toddler in Fields's care on Friday night, and on Sunday evening received a call from Fields saying Anthony had fallen on a trip to Manhattan. When Fields brought Anthony upstairs to his uncle Sunday night, he was unconscious and unresponsive. His grandmother called 911, but emergency workers were unable to revive him and he was pronounced dead at Staten Island University Hospital North. Prosecutors said he suffered "multiple skull fractures, internal bleeding, cuts and bruises to his face and across his body, as well as internal injuries caused by the sexual assault."
"For 48 hours, this depraved woman systematically tortured a 16-month-old baby," Michael E. McMahon, the Staten Island district attorney, said in a statement. "No creature on this earth, let alone an innocent child, deserves to undergo such horrific torment." He went on to say his office would "aggressively prosecute this atrocious crime." 
Fields has multiple previous arrests for petit larceny and other misdemeanor crimes, and according to the district attorney's complaint, she used heroin multiple times that weekend. She reportedly showed no emotion during yesterday's hearing, but several of Anthony's relatives had to be led out of the courtroom for shouting obscenities at her.