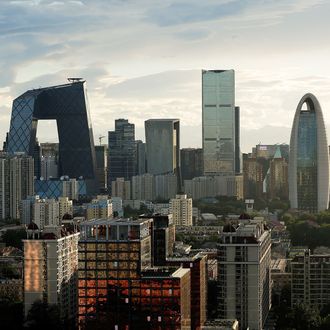 Beijing, China, where billionaires live.
Photo: Lintao Zhang/Getty Images
We've already reported that America is losing at skyscrapers, and now we're losing at billionaire-making as well. Beijing has now edged out New York as the billionaire capital of the world. According to a study conducted by Chinese firm Hurun — which admittedly might be a little biased — Beijing is now home to 100 billionaires, whereas we have a mere 95. Rupert Hoogewerf, the founder of Hurun, told the Associated Press that the numbers are based on stock prices as of January 15, meaning they take China's foundering stock market into account. Had the calculations been made at the market's peak this past summer, Hoogewerf said, there would've been nearly 150 Chinese billionaires. Moscow came in third, with 66; Hong Kong (64) and Shanghai (50) were next.
Riding the high, Hoogewerf casually mentioned that China had a "particularly high proportion of self-made billionaires" compared to the United States, where legacy families such as the Waltons and the Kochs have dominated the list for years. "We showed that at the super-wealth creation level, the Chinese are now leading," Hoogewerf said. "People will look at China the same way that people looked at Stanford or Silicon Valley in the 1990s." Or, you know, Japan.