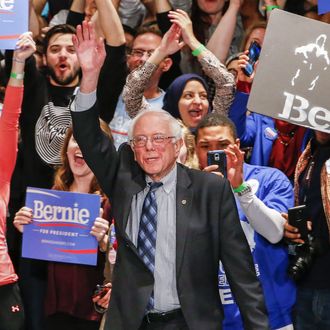 Does Bernie Sanders's massive support among young Iowans spell trouble for Clinton down the road — maybe even in November?
Photo: Erik S. Lesser/Corbis
Anyone covering the Iowa caucuses live could not help but be impressed by the size and enthusiasm of Bernie Sanders's younger supporters. They showed up very early in the downtown Des Moines caucus site I covered, and fought Hillary Clinton's well-tempered organization to slightly better than a draw in one of her strongholds. The Des Moines airport Tuesday morning was Bernie Country, as young volunteers for Sanders decamped back out to their many homes. But as the entrance polls showed, the Pied Piper appeal of this 74-year-old self-identified socialist wasn't a largely out-of-state phenomenon like the orange-hat hordes that flooded Iowa for Howard Dean in 2004. 
As Eric Levitz noted in the wee hours of Caucus Night, Sanders won the under-30 portion of caucus participants by an astonishing 70 points, 84 to 14. That's unprecedented, best we can tell. Barack Obama, the model for Bernie's campus-based youth-mobilization effort in Iowa, won only 57 percent of the under-30 crowd in Iowa, albeit against more opponents. 
Unfortunately for Sanders, his overwhelming strength in this one demographic was fully offset by his weaknesses elsewhere. There was, in fact, a direct correlation of age to likelihood to caucus for Hillary Clinton, who lost those aged 30 to 44 by a 37/58 margin, but then won the 45 to 64 cohort 58/35 and those 65 and over by 69/26. And as Ron Brownstein observes, older folks tend to show up:
[W]hen it comes to piling up votes, one of these demographic advantages is much more useful than the other. Across all of the 2008 contests, according to [Gary] Langer's calculations, voters older than 45 cast fully 61 percent of Democratic votes, while those younger than 45 cast 39 percent. That's an advantage for Clinton. And it's a slightly worrisome note for Sanders — a cloud passing on an otherwise sunny day — that young voters cast a slightly smaller share of the total Iowa Democratic vote in 2016 than 2008.
And Sanders's potential weakness in post–New Hampshire primaries was evidenced by his nearly two-to-one loss in the small segment of Iowa caucus participants who were not white. 
What Brownstein calls the "Grand Canyon–sized" generation gap in the Democratic nomination contest is likely to significantly erode Hillary Clinton's advantage among women, much as Barack Obama's appeal to African-Americans did in 2008. But in the later primaries, in both the South and big states like New York, California, Michigan, and Pennsylvania, minority voter support for Clinton will, unless something changes, significantly erode Bernie's advantage among younger voters as well. 
The question in the long run is whether these disparate intraparty bases of support will hang together in a general election on behalf of the eventual nominee. Certainly similar cleavages in 2008 did not keep Barack Obama from assembling what we now know as the Obama Coalition of young and minority voters and certain categories of women. Since young voters are the most marginal electoral participants of them all, Team Clinton should be especially worried that under-30 voters won't turn out for her in a general election. Indeed, some Republicans fantasize about stealing the youth vote behind a candidate like Marco Rubio, with his whole new-generation, aspirational message (offset, to be sure, by a Reagan-era economic outlook and a Cold War zest for militarism).  This is another reason Hillary should be careful about letting her competition with Bernie Sanders become too savage.