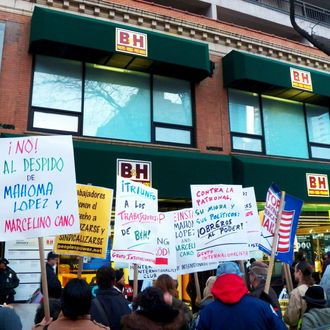 B&H faces discrimination suit.
Photo: Mark Apollo/Pacific Press/Corbis
The Department of Labor filed an administrative lawsuit on Wednesday accusing B&H, the New York electronics retailer, of discrimination against Hispanic, black, female, and Asian employees at its warehouse in the Brooklyn Navy Yard. 
The suit accuses the company — its official name is B&H Foto & Electronics Corporation — of forcing Hispanic warehouse workers to use separate and filthy restrooms. It further charges that B&H also failed to provide designated changing rooms for women, and that employees used "racist remarks, degrading comments and harassment" against Hispanic workers at the Navy Yard warehouse. White workers, the DOL says, were routinely paid more and given more promotions at the warehouse, while black, female, and Asian applicants were not considered for entry-level positions. (B&H's owner and many of his employees are Satmar Hasidic Jews.) If B&H loses the case in administrative court, it stands to forfeit its $46 million worth of federal contracts with the FBI and General Services Administration, plus future government contracts as well.  
Over the past ten years, B&H has faced other discrimination charges, but this is the first from a federal agency. In 2007, the company settled a $4.3 million suit from another group of Hispanic workers at the Navy Yard. Two years later, a group of female employees sued, claiming they were paid less than their male counterparts. Two years after that, a pair of Latino workers filed a multi-million-dollar case against the company, claiming they had not been promoted because of their ethnicity. OSHA also fined the company $32,000 earlier this year over hazardous work conditions. In November, after reports that workers at B&H's warehouses were working under awful conditions — emergency exits locked, dust that caused nosebleeds and rashes — the workers voted to join the United Steelworkers.