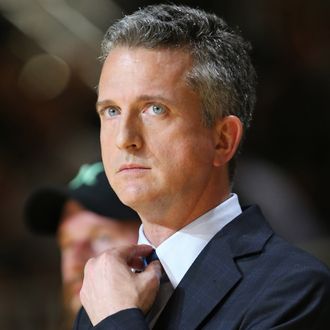 Bill Simmons's writing will now appear on the Ringer, a new digital venture.
Photo: Joe Murphy/NBAE Via Getty Images
Since leaving ESPN last year, Bill Simmons has signed a TV deal with HBO and launched the Bill Simmons Podcast Network (a.k.a. BSPN), where he resumed doing his popular podcasts. And now another part of his post-Grantland plans has come into focus: He announced Wednesday that he's assembled a team of editors and will launch the Ringer, a new site that will be the exclusive home for all of his written material. The site will debut in full in late spring or early summer, according to a spokesperson, but will launch as an email newsletter in mid-March.
The site appears to be something of a Grantland 2.0 that will cover both sports and pop culture. Indeed, many of the site's staffers — including editor-in-chief Sean Fennessey — are alumni of the now-shuttered ESPN site. Via Bloomberg's Ira Boudway, here's the staff so far:
Like his podcast network, the Ringer will be a product of the Bill Simmons Media Group, which Simmons recently founded.
Simmons also used the occasion of the announcement to take a dig at his former employer. On Twitter, he responded to a tweet wondering what he learned, from a business perspective, from running Grantland. His response: "Don't do it with ESPN."