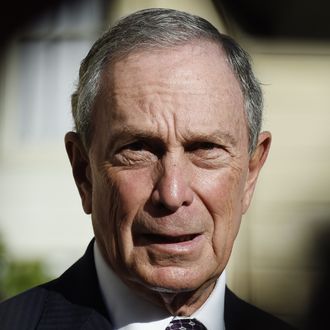 Time to start stockpiling soda.
Photo: Alain Jocard/AFP/Getty Images
Though the 2016 election already has all the polarizing billionaire it can handle, on Monday night, Michael Bloomberg said recent reports that he's considering a run as an independent are true. The former New York mayor told the Financial Times that he's "looking at all the options," and would need to start putting his name on state ballots in March. "I'm listening to what candidates are saying and what the primary voters appear to be doing," he said.
Bloomberg didn't elaborate on what scenario would prompt him to throw his hat in the ring. Previous reports suggested that Bloomberg would only run if the Republicans nominated Donald Trump or Ted Cruz and the Democrats went with Bernie Sanders. Interestingly, Bloomberg's announcement comes on the eve of the New Hampshire primary, which Hillary Clinton is expected to lose.
But, as is often the case with people who can throw $1 billion at their candidacy without batting an eyelash, Bloomberg's moves are hard to predict. When discussing the current race, he told FT, "I find the level of discourse and discussion distressingly banal and an outrage and an insult to the voters," adding that the American public deserves "a lot better." That seems like a nice sentiment, but it's a bit concerning that Bloomberg sees the circuslike atmosphere in the current race as "banal."