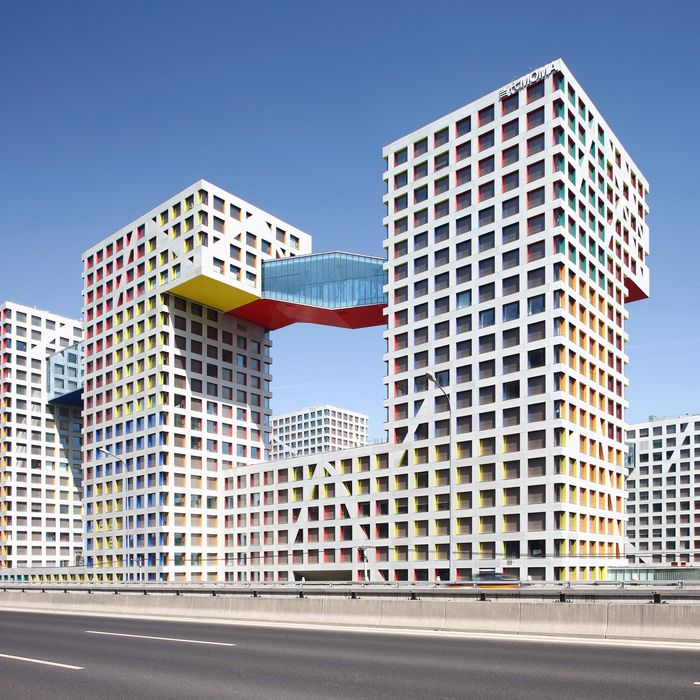 Linked Hybrid, Steven Holl, Beijing, China, 2009.
Photo: Shu He/View Pictures/Corbis
Thou shalt not be weird. That commandment has come down from the Chinese government, which is fed up with the orgy of outlandish international architecture currently cluttering the skyline. The order threatens to rattle Western firms that for years have been treating their projects in China like a weekend in Vegas — a chance to indulge fantasies they could never get away with at home. In New York, even the boldest architects are hemmed in by zoning codes, vigilant preservationists, cautious lenders, and resistant neighbors. Over there, architects have leveraged the eagerness of local officials to encrust their cities with costly icons. A taste for sinuous towers, woozy museums, ovate concert halls, and various other organic-looking structures have kept Chinese patrons and Western architects in a state of co-dependency that the government may now be trying to break.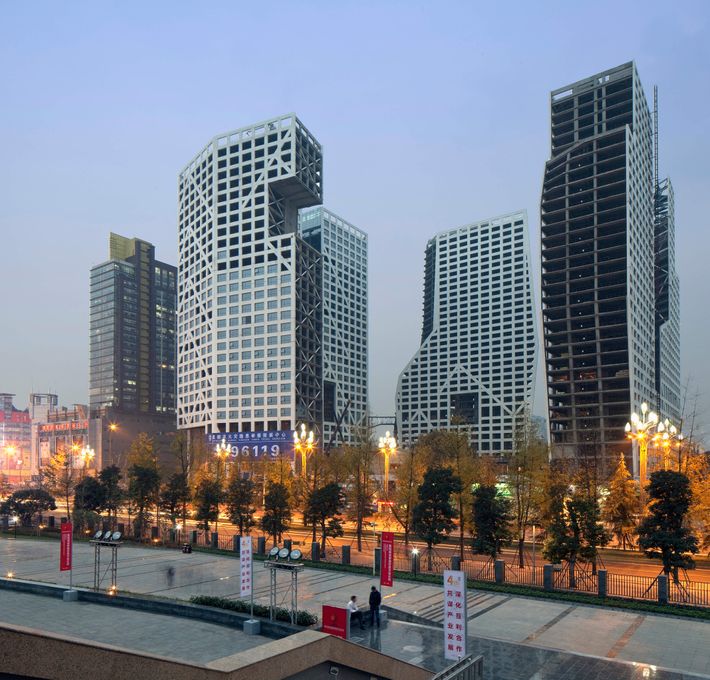 There's a lot at stake. According to the American Institute of Architects, U.S. architecture firms working in China earned a cumulative $370 million in fees in 2013 — 22 percent of all of their international work. And it's not just corporate juggernauts raking in jobs: Firms with 10 to 19 employees get nearly a third of their revenue from projects on the mainland. Architects who in lean times have to scramble for the chance to design an American doghouse return from Shanghai with contracts for entire campuses. The New York–based architect Steven Holl has been struggling for years to build a small public-library branch in Long Island City. In China, he has built the equivalent of two Rockefeller Centers, which bear his fancifully architect-y names Linked Hybrid (in Beijing) and Sliced Porosity Block (in Chengdu).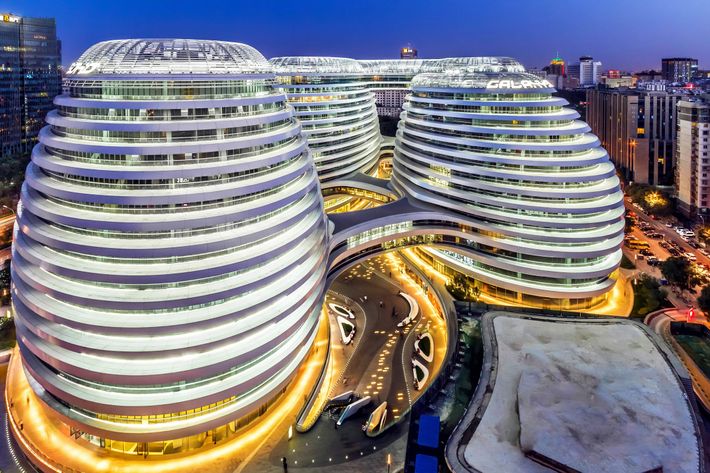 This funfair atmosphere has kept firms in New York and European cities solvent and staffed, and also given them a laboratory in which to try out their most outlandish ideas. Surely Zaha Hadid's experience designing the Guangzhou Opera House and Galaxy Soho shopping center in Beijing yielded lessons that could be applied to her smallish apartment building near the High Line. Even the buttoned-down firm Skidmore, Owings & Merrill has gone globular in its design for the Hebin Theater in Guiyang, which resembles a pileup of mercury droplets.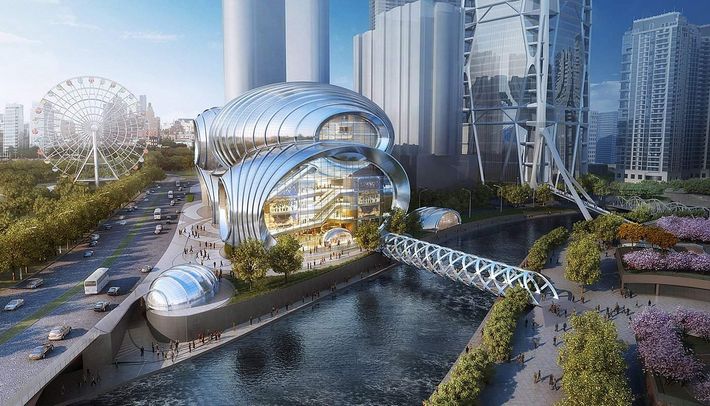 The line between creativity and weirdness is notoriously hard to police, and centralized bureaucracies have a spotty record in this area. The new State Council directive warns against "oversized, xenocentric, weird" designs, but it doesn't distinguish between bursts of wild sophistication and multi-million-dollar novelty items like buildings in the shape of coins, phalluses, gods, or the U.S. Capitol. In any case, the party's over. Regional officials, wary of being cashiered for backing too-fanciful projects, will likely stick to irreproachably conventional towers or dumb horizontal blocks.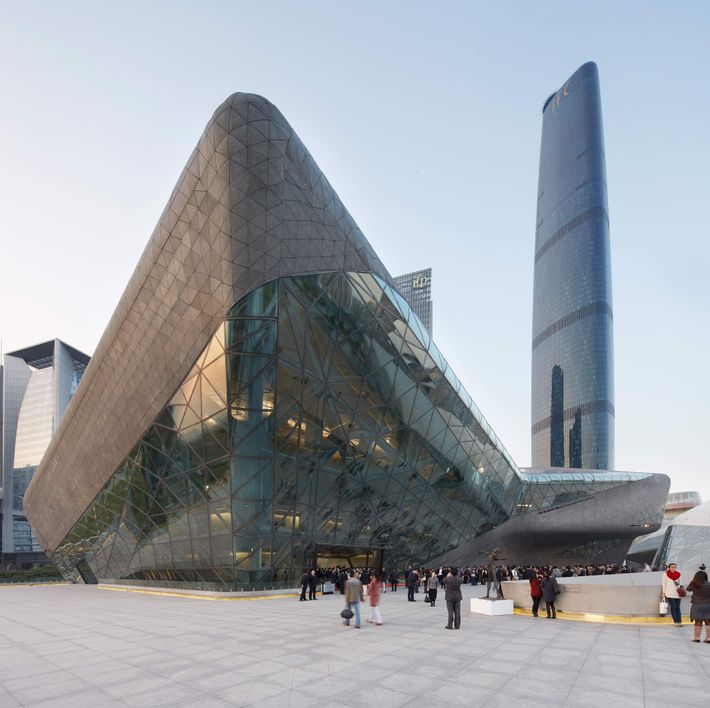 That's why the latest announcement is so ominous for New York architects. If China doesn't want foreign fanciness, it may not need to import design anymore at all. Western stars have hired, and helped train, a generation of local architects who can follow official taste wherever it leads. Some already know how to translate a poetic idea of Chineseness into the prose of construction documents. Wang Shu, for instance, won the 2012 Pritzker Prize for modest, quiet designs that spring from local tradition. If the Chinese authorities want architecture that is innovative but not weird, startling yet sensitive, they could look to the translucent, textured Guardian auction house that Beijing-based Ole Scheeren is inserting amid the low-rise hutongs near the Forbidden City. Scheeren is a hybrid product of the global city: Born and raised in Germany, he worked on the famously eccentric pretzel-twist CCTV Tower as an employee of Rem Koolhaas, then became so enamored with the land of opportunity that he decided to stay. His firm is now one of China's most visible engines of international architecture.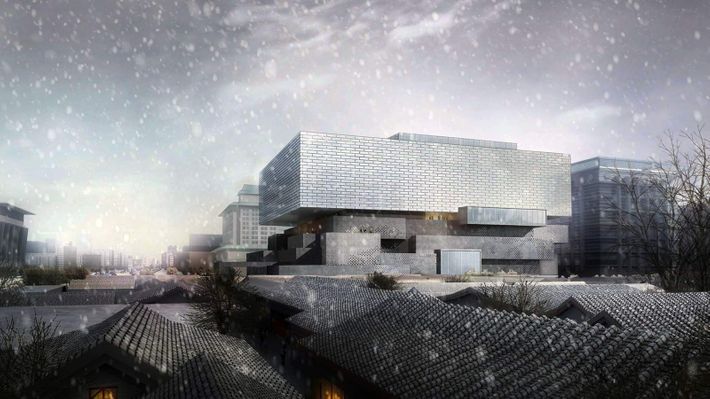 Even before the official edict, there were signs that local architects were ready to challenge their Western colleagues. When George Lucas wanted a brazen design for the lakeshore Museum of Narrative Art that he hopes to build in Chicago, he wound up with a strange conical structure that appears to be melting into a puddle of silvery fat. The designer is MAD Architects, whose founder, Ma Yansong, received an M.A. from Yale and who claims to be "the first Chinese architect to win an overseas landmark-building project." Weirdness has begun to flow the other way.